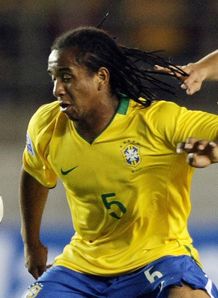 Anderson will face three international team mates if he plays against Manchester City tomorrow, in Robinho, Jo and Elano, but is certainly up for the fight.

He claims that whilst they are great people and players, he wants to be on the winning side on Sunday, and will dish them out a rough few days if he is!

"This game has a lot of history and everyone in town gets involved," said Anderson. "This year the game will have a special taste because of the great team that City has put together including my three friends. I usually work together with Jo, Elano and Robinho for Brazil. When we are here in England we talk to each other. It will be a pleasure to play against them. They are excellent players and great human beings. But one thing is sure — whoever loses the match will have a couple of rough days!"

Don't forget we have two United tickets to give away!




------------
The RoM 2017-18 Season Preview is available for just £5. It includes an EXCLUSIVE interview with Paul Scholes, a Q&A with the country's top journalists about our transfer targets, articles by brilliant United writers, and so much more. All profit goes to Trafford Macmillan so please support this fantastic cause.