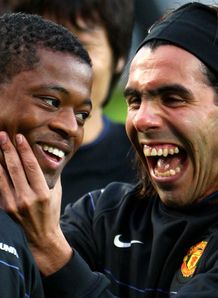 I imagine I wasn't alone in being totally gutted upon learning there is next to no chance of Carlos Tevez returning to Old Trafford for the Manchester derby. Whilst it would have been so annoying if he had scored against us, I was really looking forward to the even more heated atmosphere his presence would have brought. Of course we will still sing our songs about him, of course their fans will still sing about Munich, but there won't be the same hatred in the air if he doesn't play.

Patrice Evra, who is quickly becoming my favourite player, claims he's been taking the piss about the reaction we will give Tevez, and that he plans to join in with the booing.

"I have been joking with him about the reception he will get," said Evra. "I don't know if the fans will boo him or clap him. He did a great job at Manchester United. He respected the shirt and the fans understand that. But if they boo him I will join in. I have had a message from him saying they are going to win. I am not so sure. I just hope he plays. It will be special to play against him because he is such a good friend. But he is a City player now and we cannot let him beat Manchester United.""




------------
Made in Manchester is available for just £5. It includes 30 articles from the country's best football writers about graduates from the Manchester United academy. Everyone who buys a copy enters a competition to win the new home shirt. All profit goes to Trafford Macmillan so please support this fantastic cause.