Manchester United snatched a late leveller against West Ham on Sunday to record their sixth away league draw of the season. Cheikhou Kouyate had put the Hammers ahead with a close range deflected effort from a set piece at the start of the second half but Daley Blind volleyed home in stoppage time to salvage what could be a vital point come May.
The result means United failed to leapfrog Southampton, who had overtaken them on Saturday afternoon. The Red Devils still sit in fourth after other results went their way over the weekend and with Burnley, Swansea and Sunderland to play in the next three games, there is an opportunity to open up a gap between themselves and their rivals.
Here are five key thoughts following United's draw at West Ham.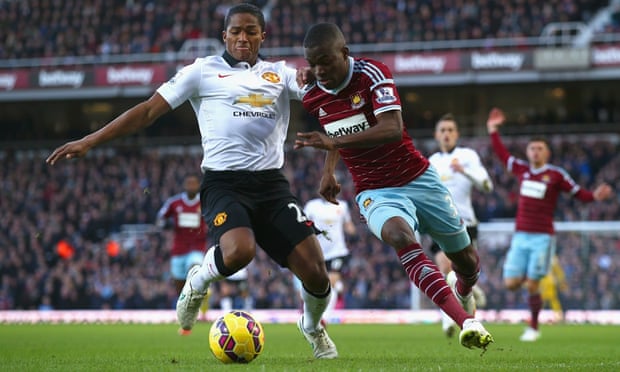 1) Let's be honest – the race for the top four is wide open
Some United fans have been kidding themselves recently that a place in the top four is guaranteed but that could not be more wide of the mark. There are five teams fighting for the final two spots. Southampton, Tottenham, Arsenal and Liverpool all have their eyes on the same prize as Louis van Gaal and his troops so the performances must pick up soon or the Red Devils could face another season without Champions League football.
The fixture list certainly looks favourable. Not only do United have a relatively straight forward few games coming up but they have already faced the Saints twice and took four points away at the two North London rivals. With three of the four other sides competing in Europe, they all must surely drop points after games on the continent. With only three away wins in the league all season, United must start being more consistent when they aren't at Old Trafford.
2) Van Gaal must drop either Falcao or Van Persie
I recently looked at Falcao's preference to play as a lone striker over on Squawka last week and it showed again here. Both the Colombian and Robin van Persie want to make the same runs into the same space at exactly the same time. They are extremely similar strikers and they cannot work effectively as a partnership. Neither are comfortable dropping deep to pick the ball up and Van Gaal's slow-paced, possession game in hindering the duo.
The Dutchman is a ruthless man and he must make a decision regarding the pair because it is quite evident that fielding both at the same time is not working. It all feels so unnatural as they both rely on supply through defences or from wide areas but when they don't get that service and they are running into the same space on the rare occasions they do, it is almost impossible for the partnership to work.
3) Lack of pace and width is hindering United massively
The decision to field two strikers inevitably means that you are forced to sacrifice some width as a manager like Van Gaal has to be in control of the central midfield area. The narrow diamond and the much-maligned 3-4-1-2 both have a similar flaw – there are no wingers in either system and it is extremely frustrating to watch. There is a heavy burden on full-backs Antonio Valencia and Luke Shaw to both supply width to aid attacks and track back defensively.
The lack of pace and width is all the more confusing, especially when Adnan Januzaj and Angel Di Maria are both playing. Although their base position in the narrow diamond are as central midfielders, perhaps it is time for Van Gaal to sacrifice a striker and play the pair in their natural wing positions. This would give United the option to play Ander Herrera, Juan Mata and Marouane Fellaini regularly.
4) United are not a long ball side, Fellaini is an alternative option
On the subject of Fellaini, Sam Allardyce stated in his post-match interview that United are a frustrating, long ball side. All irony aside, the West Ham boss is probably saying it to grab the Monday morning headlines. The Belgian causes opposition defences lots of problems with his sheer size and presence and the decision to bring him on in the latter stages paid dividends once again for Van Gaal.
United's preferred method of attack is to slowly build-up play and stretch defences with cross-field balls with Fellaini providing an alternative option and a focal point for more direct football. Some stats you may have seen has United as playing the second most 'long balls' in the Premier League this season. But they don't tell you what defines a 'long ball' when collecting the data. A 'long ball' is any pass over 25 yards, whether it be on the ground or in the air. They are not defined as "who has lumped it forward the most times."
5) There is no balance in United's midfield
Daley Blind was left exposed by Van Gaal on Sunday. The Dutchman is a very smart and technically sound footballer who does a great job defensively and has a solid passing range but he had absolutely no cover against the Hammers. Wayne Rooney is not a midfielder for starters. Even though he has the attributes to be a central midfielder in theory, he is not positionally or tactically aware enough to hold down the role in a successful side. His strengths lie in the attacking third so he should be played upfront or just off a lone striker.
Whilst this was all obvious, there was a man called Herrera sat on the bench yet again, who is capable of going both ways. The Spaniard can link defence and attack much better than anyone in the United squad and does a terrific job defensively, which would have helped Blind out no end at Upton Park. Meanwhile, the decision to pick Januzaj in central midfield, instead of the more physical Fellaini or the more creative Mata was also baffling. The selection was all over the place and there was no logic or balance to the midfield.