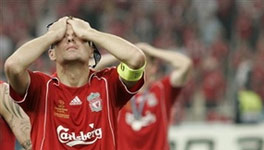 Until I can bring myself to write about what happened today, I will leave you with what I intend to be an uplifting sentiment, which may stop you wallowing in pity and misery for just a moment.

It could be worse, you could be scouse.




------------
Made in Manchester is available for just £5. It includes 30 articles from the country's best football writers about graduates from the Manchester United academy. Everyone who buys a copy enters a competition to win the new home shirt. All profit goes to Trafford Macmillan so please support this fantastic cause.