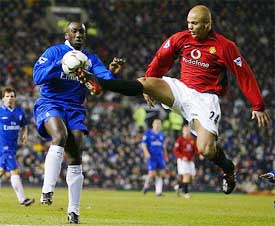 We got our first win of the season yesterday, but today's talk revolves around the penalty decissions referee Howard Webb got right. On first viewing, Vidic's challenge on Berbatov, as well as his blocked shot by Wesley, you'd be forgiven for thinking Spurs should have been awarded a penalty or two. However, video replay shows that clearly neither incident was a penalty. That, of course, doesn't stop today's press giving United a hammering. Pete Gill at Football365 writes, "The Daily Telegraph prioritised scandal over sense, permitting ex-Liverpool defender Alan Hansen to devote his entire column to the apparent conspiracy. Hansen's version of events is so myopic that it borders on a lie. The entire 700-word piece collapse on the fallibility of his centre tenet – that 'Wes Brown clearly handled the ball.' Firstly, from Webb's vantage point, Brown clearly did not handle. Secondly, replays are inconclusive and tend to suggest, as the player insisted, that the ball struck his chest. That, too, was the verdict from Hansen's colleagues on MOTD. Presumably, Hansen was among those seething Liverpool supporters who demanded an apology from Rob Styles last week. It will be fascinating to learn if an apology to Webb is forthcoming from Hansen later this week."
However, Martin Jol has confirmed what we all knew about our fans' favourite Wesley Brown. He is a wizard. "Everyone could see it was a penalty. You would need to be a wizard to keep that ball out. Brown used everything like a goalkeeper – but he's a defender."

We've got Wesley Brown, we've got Wesley Brown, we've got Wesley, we've got Wesley, we've got Wesley Brown.




------------
The RoM 2018-19 Season Preview is available for just £6. It includes an EXCLUSIVE interview with Juan Mata, a Q&A with the country's top journalists, articles by brilliant United writers, and so much more. All profit goes to Trafford Macmillan so please support this fantastic cause.