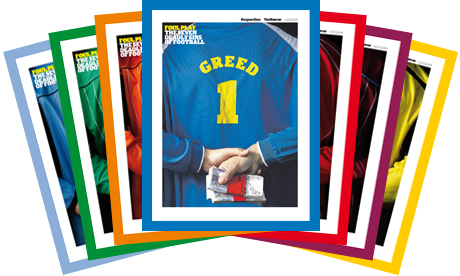 Greed
The Guardian looks at how greed has effected the beautiful game. From City's "human rights abuser of the worst kind" ownership, to Chelski's Abramovich takeover, from the charitable types, to the Premiership money losers.
Money and greed have effected our club more than most over the past couple of decades, with us certainly making the most of the money that has come along with Premiership football and Sky Sports. We've seem our fair share of negatives because of the new financial element in the game though.
The most striking of these was the Glazer takeover, which has seen our club plunge in to unimaginal figure of debt. Long before then though our club were one of the first to bring out new kits as often as they could, and were raising the ticket prices and blaming them on Roy Keane's new contract. Then we had the Rio Ferdinand incident, where he was booed by our own fans after deliberating over signing up to a massive wage after missing the best part of the season through his ban.
There is of course our greed for success as well though, which has been instilled in the club since the days of Sir Matt and has been realised most strongly in the reign of Sir Alex. Not content with winning the Premiership and European Cup last season, the greedy bastards are after repeating the same feat this season!
Tomorrow The Guardian will be looking at Pride and on Monday we'll see Wrath, with a focus on Roy.