1. Cristiano Ronaldo, 2. Petr Cech, 3. Rio Ferdinand, 4. Nemanja Vidic, 5. John Terry, 6. Michael Essien, 7. Nicolas Anelka
Manchester United won the European Cup for a third time last week, the second under Sir Alex Ferguson's management. Liverpool fans sing of their "five times", however it is United who have the bragging rights these days. Two European Cups in 9 years for United, in comparison to the two in the past 24 years for Liverpool. In terms of domestic football, Liverpool still have one more league title to their name than United, however the last one of these was won 18 years ago. It has been rather bleak times for our foes in Merseyside, particularly in comparison to the 10 titles United have picked up in the last 16 years.
A couple of weeks ago, I addressed the point concerning our relative expenses over the past few years, in a time where United have dominated English football whilst Liverpool have sat back and watched. The conclusion? There has been a difference of just £34 million over the past 10 years, which can be accounted for by the money spent on Emile Heskey, El-Hadji Diouf, Salif Diao, Jerzy Dudek and Bruno Cheyrou.
The Liverpool Echo, whose local sides, Everton and Liverpool, lost at home and away to United this season, looked at the transfers Liverpool could and should have secured in more recent years. When looking at the lineups of United and Chelsea, the latter of whom knocked the dippers out in the semi-finals, the dippers' rag looks at seven players who Liverpool have had the opportunity to sign in the past.
1. Cristiano Ronaldo
The current best player in the World was initially a Liverpool target. However, the scousers missed a trick here, with Phil YSB Thompson and Gerard Houlier deciding that the £4 million transfer fee and 4 year deal worth £1 million a season was too much. D'oh.
2. Petr Cech
The Czech Republic goalkeeper, who has won European Goalkeeper of the Year on two occasions, was scouted by Houlier, however decided not offer him a trial or a contract. D'oh.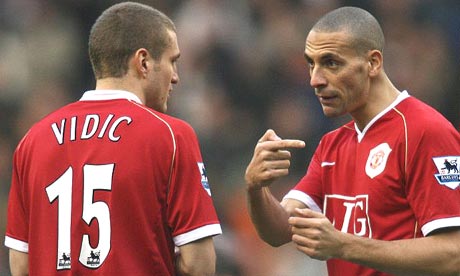 3. Rio Ferdinand
Ferdinand, who has easily been the best central defender in the Premiership, and arguably Europe this season, could have been a Liverpool man eight years ago. Both Leeds and Liverpool were interested in prying him away from West Ham when he was just 22-years-old, however Liverpool ducked out, not believing Ferdinand was worth the £12.5 million price tag.
4. Nemanja Vidic
Rafael Benitez let his interest be known in United's Serbian defender when he played against Spain in the World Cup 2006 qualifiers. Liverpool didn't have the resources to outbid United though.
5. John Terry
With Chelsea fighting against bankruptcy, John Terry was made available in 2003. Liverpool were quick to declare their interest, but Roman Abramovich's money ensured that Chelsea didn't have to sell.
6. Michael Essien
Another player Houlier wanted to sign, but a lack of funds let him down.
7. Nicolas Anelka
After a year long loan spell from PSG, Liverpool had the option to sign the striker. Houlier decided against the permanent move, instead of spending the money on El Hadji Diouf. Anelka went on to average 15 goals a season for City over the next three years.