Sunday was everything I could have hoped it to be. It was vitally important we took three points at home (and finally got ahead of City) for our own well being. To do so without even having to break in to much of a sweat was all the better. Like usual with these games of hype, the quality of football was nothing to get us too excited, but the utter humiliation of Chelsea added to what was a great day.
I was at Old Trafford a couple of seasons ago, and had to suffer the pain of watching our lads applaud Chelsea, the new Champions, on to the field. With five minutes to go, the Chelsea fans (who had not sold out the away end at Old Trafford) chanted "easy!" at us, and it hurt. Our precious team was crumbling away, and Chelsea easily cast us aside. I wasn't one of the thousands who left early that day, I hastened to add, and endured the painful lap of our honour as the Chelsea players celebrated with their fans.
Winning the title so convincingly last season was everything we dreamed of, after suffering through two season dominated by Chelsea. Beating them at Old Trafford on Sunday, with them not even managing a single shot on target (and just three shots in the direction of the goal all game), and watching the away section empty before the final whistle, felt like justice. It felt as though things have finally returned to how they should be.
People can speculate over the decisions all day long (and don't worry, I will be giving some time to that later on), but what can't be ignored is how the deflated men of Chelsea were outclassed from start to finish, with United looking superior in all positions. As a Chelsea fan said to me in a text as I drove back from the match, there is no room for Chelsea to feel hard done by, because they did not show up. It was an utterly toothless performance from a team whose self confidence and team spirit has taken a serious battering over the past few weeks, and United left the field worthy winners.
Decision 1: Evra Penalty vs Joe Cole
Joe Cole could have quite easily been given his marching orders for a clumsy tackle on Evra in the area with just quarter of an hour played. Cole brought down the left back before making any contact with the ball, and what should have been a penalty and red card for being the last man. The ref, rattled by the crowd, and the reputation which precedes Old Trafford (although it's time somebody updated the stats, and looked at the amount of penalties given for and against United at Old Trafford over the past two seasons. Both Wigan and Arsenal were awarded penalties, Arsenal's in front of the Stretford End) bottled it and awarded nothing.
Decision 2: John Obi Mikel's sending off.
It couldn't have happened to a better player really, could it? The Nigerian youngster signed a deal with us, only to change his mind and claim he was forced in to the deal. Apparently, the smiling photographs of him holding a United shirt were all fake, and deep down, he'd always wanted to play for Chelsea. He undergoes a year with no football, and finally gets his wish to play for Chelsea. It is sod's law that the team he fought so desperately not to move is the team that wins the league, isn't it? He received his third red card in Chelsea's shirt for a dangerous tackle on Evra. Evra flew a few feet in the air as Mikel's studs crashed in to Evra's foot, after winning the ball. Was a red card? From the stands I wasn't expecting it. From the replay, I can understand why it was given, whilst still seeing it as rather harsh. Mikel lost control of the ball and it was a desperate challenge. Credit to him for winning the ball, but he followed through with studs in to the player. United fans will remember two seasons ago when Ronaldo made a one footed challenge with studs showing against City, and was dismissed despite not making any contact. I don't remember many pundits at the time saying that wasn't a straight red though…
It's been a while since the Old Trafford crowd has had anything to get worked up about, and despite John Terry trying to take the red card out of the refs hand, the sending off sent the crowd wild. Mikel protested on the field (although managed not to throw a temper tantrum after this particular red card) and lingered, giving us all the more time to boo and whistle. United had the upper hand as it was, and it was only a matter of time from this point on until the game was wrapped up.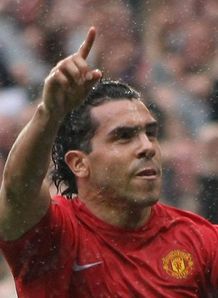 Decision 3: Tevez's Goal
What a goal and what day for Carlos Tevez to open his scoring account with United. Ryan Giggs' perfect cross in to the box, after Wes Brown headed the ball to him, met Tevez's head as he dived in front of Cech. The problem is, this all occurred after the two minutes of injury time had finished. As Giggs ran over to the corner flag it felt as though his ball in would be the last touch of the game. However, the ref found time for Chelsea to clear the ball, only for Wes Brown to pass it on to Giggs.
It appears as though referees are getting a more lenient with time allowed, if City's game at Fulham is anything to go by, when nearly three minutes of injury time were played on top of what had been announced by the fourth official. If Geovanni hadn't selfishly gone for goal from the freekick deep in to this time, the ref would have had a few people to answer to.
In the case of Tevez's goal, it was scored in the third minute of injury time, when just two minutes had been held up on the board. Is this a big deal? It could have been. As it is, I don't think Chelsea fans have much room to complain on this one. Of course it's frustrating. If the referee had blown his whistle when he was supposed to, Tevez would not have scored when he did.
However, we can't change what happened, we can only speculate. Our second goal aside, if I was a betting man, I'd put good money on United scoring another goal in the half which followed regardless, as we utterly slaughtered Chelsea. We strolled around the field, pushing attacks, and came inches away from scoring on number of occasions, whilst the Chelsea players sat back and let us. If we had been without the comfort of knowing we were a goal ahead, you'd be wise to think United would have scored another independent of the penalty. Regardless, no team who can't muster a single shot on target deserves any points from a game.
Decision 4: Wayne Rooney's Stay
Chelsea fans are likely to feel aggrieved that Wayne Rooney stayed on the field whilst Mikel was sent off. Rooney received a yellow card for stupidly shouting out at the ref. He had been tracking back alongside Ashley Cole. Just as the skinny twat broken in to our half, he dived on to the ground, and the referee awarded a free kick. Naturally, Rooney was frustrated the referee had been so blind, but that does not excuse his reaction which earned him a yellow card.
Moments later, Ashley Cole was in his box, when Rooney charged him down, intentionally pushing him. The referee called Rooney aside for a chat, rather than for a second yellow. A red card for Rooney and ensuing ban would have been a disaster for us, after only just getting him back playing in the Premiership after he was injured on the opening day.
Instead of bringing out a second yellow, and enjoying the celebrity of sending Rooney off, the referee took him to one side and had a chat with him. It had been a cynical move by Rooney, and there couldn't have been too many complaints if he'd been sent off.
Decision 5: Dean's drop ball
Petr Cech stormed out of his goal line and collided with Rooney, with our striker receiving a blow to the head. As he lay motionless on his front in Chelsea's penalty area, Rio Ferdinand kicked the ball out for a throw in. Once Rooney was back on his feet, the ref opted for a drop ball instead.
Instead of behaving in a sporting manner and giving the ball back, Chelsea kept possession. We let them know what we thought of this, and spend the majority of the remaining twenty minutes booing whenever they were on the ball. A needless decision from the ref which could have caused a few problems if Chelsea had converted their possession in to a chance. However, it wasn't Chelsea's day to benefit from that kind of good luck.
Decision 6: Is Joe Cole still on the field?
As Ronaldo charged down the right hand side of the field, Joe Cole slid in, getting nowhere near the ball, and took Ronaldo out at the ankle. He made no effort to reach the ball, and could have caused some serious damage. With fifteen minutes to go, finally the referee punishes Cole, but he only receives a yellow, in a game where he made arguably two red card fouls. Ferguson responded angrily to the referees decision, saying, "Joe Cole should have been sent off. Tackles like that are a danger to players. He went right down the back of his leg and could have done some real damage. It is the type of thing Cristiano is facing all the time now but Cole got off with it because the referee was balancing things out after the first sending-off.The referees are not punishing tackles like that in the right way. I was very angry about it."
Decision 7: The Penalty
No question, it was a penalty. Ben Haim made a lazy tackle on Louis Saha and didn't touch the ball. Saha made a meal out of it, flailing his legs and falling to the ground. Embarrassing, sure, but that does mean it wasn't a penalty? Of course not. On a day when the referee was clearly having problems, Saha made it as obvious as he possibly could, and then slotted the ball down the centre of the goal as Cech dived out of the way. I'd rather see my players not behave like that, but in a situation where it was a certain penalty, I can learn to live with our foreign players doing it.
All in all, the referee made a pig's ear out of most of the decisions, that is certain. Would United have got the same result if the referee had been on good form? Who knows. Chances are yes, with the Chelsea team not looking close to scoring over recent weeks, and looking dreadful on Sunday.
After the match, Ferguson summarised the events well, saying the referee spent the game working a balancing act, making wrong decision after wrong decision. If on the seventeenth minute he had awarded a rightful penalty against Joe Cole, we could have seen a different game, but that wrong decision had a knock on effect. If with less than twenty minutes gone, with Chelsea down to ten minute and a goal behind, what would the outcome have been?
As it is, I don't really care, if I'm honest. United picked up a well deserved three points, and are finally starting to look like a team again. We still have Gary Neville and Owen Hargreaves to come back in to the first XI (although it must be said, Carrick had a great game, winning the ball from important tackles, and providing good passes forward) and Rooney to settle in after missing weeks of football. Things are just started to click for us, whilst for Chelsea, our supposed main title rivals, things are coming apart at the seams.
I concur with Tevez, that justice was done on Sunday. We picked up all three points as we deserved, but on a greater level too, Chelsea are starting to feel the pain of success slipping away. As they rubbed our noses in it three seasons ago, chanting "easy" at us, I bet they never dreamed so that so quickly they'd be travelling to Manchester to see their team put on such a dismal performance. The "easy" chants were not returned at the end of the match on Sunday, however we belted out a couple of rounds of "We shall not be moved" and "Championees" as we filtered out of the ground. And that is how it feels, as though we will not be stopped from winning the title again. Before kick off, the Stretford End carried over a material flag showing Giggs and Neville lifting the trophy, reminding our fans what we'd won, and the Chelsea fans what they'd lost.
Just as the title wasn't lost after the first three games, it is not won after the first seven, however we can see just how quickly things change in football, and how quickly they've changed in our favour. Of course Liverpool and Arsenal are still fierce competitors, and it is by no means all over for Chelsea…but I certainly have great confidence that come May, the black and red ribbons will be staying on our trophy.
We'll Never Die.