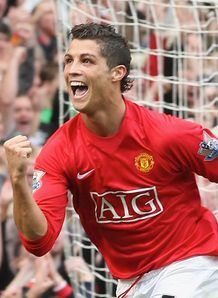 Cristiano Ronaldo has been flying high this season, scoring almost a goal for every game he has played in. He has come along way from the skinny 18-year-old lad who joined us from Sporting Lisbon, and looks set to take a clean sweep of the individual awards this season.
There was been plenty of talk of Ronaldo leaving United for Real Madrid for a ridiculous sum of money. Based on the way he is treated by the referees, opposing players and fans in this country, I don't think any of us could blame him for seeking a move away from this country. However, Ronaldo has again rubbished these claims today, reacting angrily to speculation over his future away from United.
"I just don't care what the whole world seems to want to say about me or speculate about my future," Ronaldo said. "I've said it a thousand times and, by now, people should realise…I'm totally happy at United. I'm in the form of my life and I'm having the season of my career so far. So it makes me mad sometimes to read some of the things which are supposed to be related to my future. I get angry, but I'm trying to accept it's a waste of energy to be furious because it is not worth it. It's not by chance I've ended up at United. I always showed that I had the basic talent and commitment to become a professional player. Then my development here has been aided by the support and the correct environment for my talent to develop. There is an attitude of hard work here that I need and like. This season is massively demanding on all fronts, personally, for United and for Portugal. So what I'm trying to do is set everything else aside and be ready to give my utmost in every match from now until the end of United's season and then into the European Championships with Portugal."
This is certainly good news for United fans who, after waiting patiently to see Ronaldo emerge in to the player he is today, want to get as many years as possible out of the player.
Of course, Ronaldo is wasting his breath on insisting there is no truth behind the rumours, particularly when considering a Real Madrid representative is talking of his admiration for Ronaldo on a weekly basis. However, whatever the tabloids print, it's reasuring to know that Ronaldo has no plans of going anywhere anytime soon.