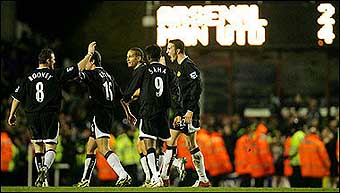 The Arsenal game was the highlight of our season for many years. The build up in the weeks preceding, with Arsene Wenger and Sir Alex Ferguson battling it out in the press, only heightened the expectations. The games were usually high drama and the winner would usually have a crucial advantage in the title race. The teams were usually matched ability wise and predicting the score was impossible. Form went out of the window, it was the team that wanted it most on the day who would win.
In the 1997-1998 season, United claimed no silverware, whilst Wenger's Arsenal won the Double. The following season started with a 3-0 defeat to Arsenal, and a few weeks later this scoreline was mirrored in the league. It appeared as though the new Arsenal manager was really going to give Fergie a run for his money. The sides met again in February, this time at Old Trafford, with Andy Cole salvaging a point for United after Anelka gave Arsenal the lead just after half time. The clubs were drawn each other again in the FA Cup semi-final with match finishing in a goalless draw after extra time. The replay came with less than a month to go in the season, with both sides eager for the psychological advantage a victory could give them.
United took the lead with less than 20 minutes played, courtesy of a beautiful David Beckham goal. This was cancelled out by Denis Bergkamp with 20 minutes to go. Five minutes after the equaliser Roy Keane was sent off for a second yellow card, meaning we were looking at 15 minutes plus extra time with a man less. Moments later, Anelka put the ball in the back of the net and celebrated ecstatically, only to find out it had rightly been ruled out for offside. The clock was ticking down and another bout of extra time loomed. Two minutes in to injury time, Ray Parlour broke in to the United box, with the tired legs of Phil Neville swiping him down. There were no complaints from the players, it was a certain penalty. Bergkamp stepped up to take it, despite missing three of his last five penalties, but the hope of a place in the final drained away. However, Peter Schmeichel, determined to see his final season at United end in celebration, saved the penalty. There was little time to celebrate though, with half an hour of extra time to endure, by the end of which period, United would have played with ten men for 45 minutes.
The first half of extra time ended with no goals, but two minutes after the restart, Patrick Vieira played a ball in to the path of Ryan Giggs in our half. We all know the goal, one of the greatest ever scored, with Giggs taking on arguably the best defence in Europe to fire the ball in to the roof of David Seaman's goal.
It doesn't get much more high drama than that, but there certainly have been more than an enough incidents to talk about since then. The 2-1 victory away, with Keane scoring both goals, the winner coming 2 minutes from time. The 6-1 thrashing at Old Trafford in the season United won their third successive Premiership title. The Ruud van Nistelrooy penalty miss, which lead to an onslaught of abuse from Arsenal's players in the 2004 draw. The redemption of this the following season when Ruud scored the penalty before Rooney sealed the points to end Arsenal's 49 match unbeaten run. The 4-2 at Highbury, again with United playing for 20 minutes with 10 men, after a fight broke out with the club captains Keane and Vieira in the tunnel. The 2-1 defeat at the club's last meeting at Highbury, with Arsenal equalising and scoring the winner in the last 7 minutes of the match.
The United – Arsenal rivalry has been reignited this season, following two seasons of Arsenal finishg 4th, with Wenger's team surprising everyone, even the most die hard Arsenal fans, by leading the table for months. Come February, Arsenal were 5 points clear. Gallas secured a point for Arsenal at the Emirates with a last minute equaliser against United earlier in the season, and the pressure was on when the clubs were drawn against each other in the Cup. United knocked Arsenal out, courtesy of a 4-0 victory, which saw the start of the Gunners downwards spiral. In the seven league games since that Cup defeat at the hands of United, Arsenal have drawn five, lost one, and won one, meaning they've picked up just 8 points from a possible 21, squandering their lead and now falling 6 points behind United at the top.
The clubs play again this Sunday, with a victory for Arsenal keeping their title hopes alive, and a defeat confirming them to another trophyless season. Following a demoralising European Cup exit at the hands of the dippers, are United guaranteed three points this weekend?
A betting man would be putting his money on United this weekend, for a whole host of reasons.
1. This week has been uplifting and confidence boosting for United, after progressing to the semi-finals of the European Cup. Victories at home and away to Roma saw United through with a 3-0 aggregate score. In contrast, Arsenal drew their home leg of their semi-final against Liverpool, and were knocked out in painful fashion at Anfield. With six minutes left to play, Arsenal were through, thanks to a brilliant Walcott run and goal by Adebayor. However, in the next attack, Arsenal conceded what some might consider a dubious penalty. With time running out, Arsenal threw all their men forward for a final attack, knowing a goal now would secure them a place in the semis. However, Liverpool broke, with a tired Fabregas struggling to keep up with the fresh legs of Babel, who scored the dippers' fourth of the night.
2. United were afforded the luxury of resting Paul Scholes, Cristiano Ronaldo and Wayne Rooney for their tie against Roma, whilst Arsenal had to endure a draining match at Anfield, which saw Flamini go off injured just before half time. He has been one of Arsenal's best players this season and his absence will mean Gilberto is set to take his place for the Old Trafford clash.
3. Rio Ferdinand is fit. Last weekend, it was looking as though United would have to play without both their central defenders, with Vidic ruled out for a couple of weeks thanks to an injury in Rome. Ferdinand left the Riverside last weekend with his foot in protective casing, fearing he'd broken something. However, he played for 90 minutes against Roma two days later and will be in the starting lineup on Sunday.
4. Arsenal have struggled mentally this season, with their captain setting the tone after the 2-2 draw against Birmingham. His temper tantrum sent out all the wrong messages to his team, who have little to no experience of winning a title, and they have failed to recover from this. Good results against Bolton and Milan, against all odds, will give Arsenal fans some encouragement, but in general, Arsenal's team has been lacking the fighting spirit needed to win big games like this one at Old Trafford, and essentially, win titles.
I fancy a United win and I believe an early goal for our lads could see Wenger's men entirely crushed. However, these games are entirely unpredictable, and a manager of Wenger's experience should be able to give the rousing talk needed for victory. But this might all be a bit too much for them, as this will be one of many desperate results needed by the Gooners, and questions will be asked whether they have it in them.
Roll on Sunday!