It should have been the moment Manchester United lost the European Cup. John Terry stepped up to take Chelsea's fifth penalty, knowing that if he scored, Chelsea were the Champions of Europe for the first time in their clubs history.
After the first 45 minutes of football, United should have been 3-0 up, after completely terrorising the Chelsea back four. However, the first half ended at 1-1, after a ball in to the box took a deflection off both Ferdinand and Vidic, before a Van der Sar slip enabled Frank Lampard to find the back of the net. Gutted.
It was quite fitting then that the slippy ground cost Chelsea in the same way, with Terry landing on his arse and seeing his attempt come back off the post.
A miss from Anelka, after Nani, Anderson and Giggs scored their penalties, saw United win the match and the European Cup for the third time, the second under Sir Alex Ferguson.
As United celebrated wildly on the pitch, Terry cried, and cried, and cried. Is he over it yet? Is he fuck.
In a quite embarrassing open letter on the Chelsea website, John Terry poured his heart out after the Champions League final.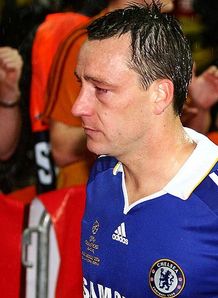 "I am so sorry for missing the penalty and denying you the fans, my team-mates, family and friends the chance to become European champions," it said. "I have had some amazing support from fans, current and ex-players, family and friends and I need to thank everyone for that. But I am a big man and I take responsibility for us not winning. I am and always will be Chelsea through and through. I will give my all on and off the pitch to win this trophy as a player and one day as a manager. And I am sure we will win it. That night in Moscow will haunt me forever and I feel I have let everybody down and this hurts me more than anything. I am not ashamed about crying."
Cringe.
However, this complete self-destruction was seen as a positive thing by many. Whilst his love for his football club is admirable, I can't understand how this self-indulgent cry-baby response to the mistake he made in Moscow brought about the praise he received in the weeks following. Despite this meltdown, people still seemed to be convinced that Terry was this hard man who can handle any situation.
"Unfortunately for him, he suffered a big low in his career with what happened in Moscow last week," said Steven Gerrard. "But we always knew he was going to bounce back. That is the type of fantastic character that he is."
"If anyone is capable of dealing with that situation, it's John Terry," said our very own Owen Hargreaves.
"John should have no worries because he is the strongest man I have met in football," said Fatboy Lampard.
Whilst large sections of the country continued to laud him as a tough man, who was just passionate, wearing his heart on his sleeve, I tended to sway with an opposing point of view. What kind of pussy stands there bawling his eyes out after losing a football game, then has the nerve to claim he's a 'big man'? Whilst there is nothing wrong with being a man who is in touch with your emotions, to a certain extent, crying like a little boy (like little Chelsea boy fans all over the country that night) because you lost a football match is not the behaviour of 'big men'.
At the last World Cup, when the England players were in bits following the penalty misses from Gerrard, Carragher and Lampard, Neville went around rallying the troops. At 31-years-old, he had to know this was probably his last chance at winning the World Cup, but instead of lying on the ground and crying, he took the defeat like a man and got on with it.
"We could not have given any more, but ultimately we lost and we are out of the tournament and going home on Sunday," he said. "For England and the expectations of the people, this is not good enough."
I'm not asking for footballers to be emotionally void machines. If football matters to you, you are going to show emotion. When Gary Neville went bonkers in front of the dippers, it was because this club is the centre of his World. Shedding a tear here or there is again something you imagine will happen with footballers who really love their club, through joy or sadness. But I can't abide by the idea that Terry is some hard man after he spent hours bawling following his penalty miss.
John Nicholson seemed to share my viewpoint.
There can be few blokes who really are 'a man's man' who would not have felt a degree of nausea, if not outright contempt, at the waterfall of John Terry's tears last Wednesday.
But his display served a very good purpose. It illustrated exactly what is wrong at the core of English football. As England's national side comes into focus again this week, there is much Fabio Capello can learn from Terry's emotional breakdown.
Let's get this right, if you are weeping so uncontrollably for so long just because you have lost a football match, you are emotionally immature; you are a boy in a man's body.
Few of us go through life without an occasional watery eye – more usually born of joy rather than disappointment – but we reserve the proper out-and-out crying for life and death matters, not for football.
If you are crying that much about football, what on earth are you going to do if, God forbid, a real tragedy strikes you? Where is left to go emotionally?
It's bitterly ironic that the press are still so intent on painting Terry as a specifically English icon and hard man when the traditional English way is the exact opposite of his behaviour.
The traditional English way is the stiff upper lip; emotion is expressed only in private and if shared then only with loved ones. Publicly-expressed emotion is for the weak and the self indulgent. It is certainly not the sort of thing leaders of men indulge in. It is undignified and shows lack of character. And yet we are told he is still 'England's lion'. The same things were said about Tony Adams even when his life was in a mess and he was a raging alcoholic. Why are these type of people so many English fans' heroes? Is dysfunction attractive? Is it now the norm?
I am not denying a man his right to cry, not at all. Following hours and hours of alcohol consumption, I can only imagine what my reaction would have been had Terry put that penalty away. However, as I dragged myself back to the pub the following day, I wouldn't have insisted that despite my emotional break down, I was a 'big man' and that's why I was entitled to cry.

United have lost important matches, yet I can't remember seeing any of our lads breaking down in tears. In the 2006-2007 season, we lost to AC Milan away after beating them at home. Our players walked off the field dejected, disappointed, sad, frustrated…but there weren't buckets of tears, in fact, there weren't any tears. Ryan Giggs, who captained us that night, was 33-years-old and was well aware that might be his last shot at winning the competition again. He had been a United player since 1987 and here we were, 20 years later, and his side had just lost the game which could have proven to be his last chance.
Like Gallas' break down helped ruin Arsenal's title chances, Terry failure to lead like a man, one who doesn't cry after every big defeat (World Cup quarter final, Champions League semi-finals and finals), could also work in our favour. Whatever passion he inspires in his desperation for Chelsea to win, the same of Gary Neville at United, there have got to be some players in the dressing room who struggle to take a man seriously who has a big cry every season when they lose.
Terry has certainly suffered a fall from grace of late. When Chelsea were flying high, he was hailed for his great leadership abilities. He commanded respect from the players and fans, enjoying lifting the trophies as they fell in to Chelsea's lap. However, with the players disciplinary problems finally being highlighted by the press, England's capitulation in the Euro qualifiers (with Terry missing the all important crucial match against Croatia because of 'injury', although played 90 minutes for Chelsea vs Derby at the weekend!) and his general poor attitude in response to any criticism he suffered, he isn't the 'Golden Boy' of England anymore. He is physically strong but emotionally weak, which he displays far too often on the field.
So, two months have passed since that moment, has Terry dealt with his penalty miss?
Course not. Whilst this certainly says a lot about his dedication and strong feelings towards Chelsea, it also makes his mentality questionable.
"Every morning I wake up and it's the first thing on my mind," Terry said yesterday. "I still think of it. I'm still very disappointed by it, but I'm a big man and have a big character and it's down for me to deal with it."
Big man? Pull the other one!