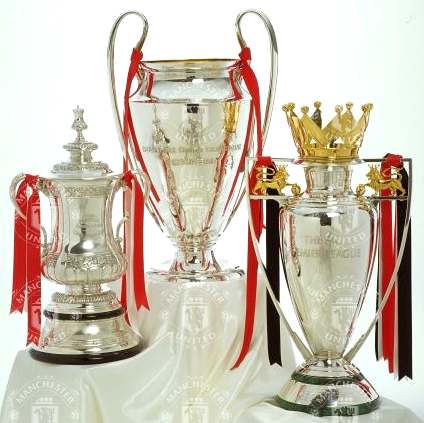 Back in 1977, Docherty's United finished sixth in the table, some ten points behind league champions, Liverpool. It was therefore predicted to be a very one sided FA Cup final when the North West rivals walked out at Wembley in front of the 100,000 crowd. Liverpool were looking good to win The Treble, and pushing United aside was the simplest step of the three, on paper. However, United came up with the goods, and beat Liverpool 2-1, denying their Treble chances. The Daily Mail wrote, "Other sides have lost a game, a chance, a bonus, Liverpool have lost their place in history. One day some side may do this impossible treble, maybe even a side from Liverpool. But not these men".

The Impossible Treble was achieved in 1999, as we all well know. We all have a story of where we were when it was won, we all remember the wonderful goals scored in that season, we all have a favourite comeback game, and we all enjoy singing "Have you ever won the Treble, have you fuck?" to any set of travelling fans who get cocky. It was a magical season, in every sense. The players we had, the teams we beat, the goals we scored, the football we played, the way won.

A fella from my local went to every match that season, home and away, and I remember vividly seeing him when he'd returned from Barcelona a week after the European Cup final. He'd had too much to drink, but was offering his season ticket to anyone who could stump up the cash. "I've seen it all," he kept saying. (Everyone was kind enough to wait until he was sober before taking him up on his offer, and I've seen him since at Old Trafford with his season ticket in hand, in case you were wondering. After a summer of no football, he clearly changed his mind by the start of the 1999-2000 season). I could understand what he was saying though. It couldn't get any better than that. Winning the league on the last day of the season, winning the European Cup in injury time, getting to the final of the FA Cup the way we did against Arsenal and Liverpool, it just couldn't be better. On too many occasions, we'd had to wait until the very last minute to get the victory we craved. We had ninety minutes of anticipation and hope and expectation and fear and excitement match after match, particularly in the final couple of months of the season. Winning could never feel as good for anyone as it did for us in 1999.

Now, whilst that season is likely, if you're a United fan, to be the highlight of your life, it has also been the cause of great misery. We still have the belief of the 1999 season instilled in us. We could be getting played off the park, there are thirty seconds of injury time left, and we will be sat there with stupid grins on our faces, waiting for someone, anyone, to pop up and find the back of the net. Whilst that still does happen, in the eight years since that season, it hasn't happened half as much as we have needed it. When we outplayed and outclassed Arsenal in the FA Cup final in 2005, all of us in Cardiff expected that goal. After having the lead taken away from us in Benfica in the last match of the group stages in December 05, surely we had a team who could pull back the two goals we needed. When we toiled against Chelsea in the FA Cup final last season, surely one of our lads had to find the back of the net. Whilst 1999 gave us everything we wanted, it's also a painful reminder of all we're missing out on when we fail and when we lose.

Last year, it was a joy to watch United play. Whatever people want to say about our team and our players, there's no doubting we play absolutely thrilling football, ripping teams apart with our speed and skill on the attack. Going to Old Trafford every other week was a thrill, as every time I woke up on match day, I knew the chances were I was going to watch my team play a great game of football. I enjoyed the opening day mauling of Fulham, I loved battering the dippers, and it was incredible to see us come back from 1-0 down to beat Blackburn 4-1 scoring four in the second half.

Then there was Europe. We scored three goals a game in our home group stages games against Benfica, Celtic and Copenhagen. I got to see Henrik Larsson score a goal for Manchester United in the Round of 16 against Lille, then there were the stunning games against Roma and AC Milan. Whilst I understand and wholeheartedly agree with the outcry over the Glazer's decision to make Cup tickets compulsory for season ticket holders this season, there's no denying that season ticket holders at Old Trafford got extremely good value for money. To think that our friends and neighbours down the road didn't score a single goal at the council house from the New Year onwards last season and there is not a lot of difference between the prices of our tickets.

Life was grand for those of us who just had to jump in the car and drive up the road to Old Trafford a few times a month. Life wasn't so grand for the thousands of United fans who were travelling all over Europe to watch the lads play. If they weren't getting the shit kicked out of them by police, getting stabbed by rival fans, or having tear gas thrown at them, they were watching some pretty dismal football.

Out of the six away games we played in Europe last season, we won just two, 1-0s against Lille and Benfica. We lost to Celtic, lowly Copenhagen, Roma and were completely outclassed by Meelan. Even the away wins against Lille and Benfica were nothing to write home about. Saha struck the ball from distance to see his shot take a deflection which saw it fly in to the back of the Benfica net in a rare attack, and Giggs took an early freekick which almost resulted in Lille abandoning the match.

There has been an entirely different European experience this year however. It kicked off with an away trip to Sporting Lisbon, Ronaldo and Nani's former club. Travelling reds were met with a movingly warm welcome and sat amongst the Sporting fans. When Ronaldo scored for us, the Sporting fans applauded him, and awarded him with a standing ovation when he left the field. "Such is the love his rare talent inspires, and the humility with which he displayed it last night," Glenn Moore of The Independent wrote, "Wes Brown delivered the perfect cross, which was met by a well-placed falling header from Ronaldo. The winger jumped to his feet, began to celebrate, then remembered where he was and quietly accepted the congratulations of his team-mates before applauding the home support. A wave of applause rang around the ground in response. It was a remarkable moment." It truly was a treat for the travelling fans to see such good sportsmanship in the home fans, and the feeling of mutual respect between the opposition fans, and opposition players, was warming.

We have since only had one more away trip in Europe, and that was to Dynamo Kiev on Tuesday night, a ground where only one other English team has won previously (and that team, Liverpool, could certainly do with a revitalisation of those winning ways in Europe at the moment!). With less than twenty minutes played, it appeared as though the game was going to be a walk over, with goals from Ferdinand and Rooney to make it 2-0. Kiev were determined to keep our travelling fans entertained, and crept back in to the game with half an hour played, Rincon getting away from O'Shea to header past Van der Sar. But just so we had something to cheer about again, Ronaldo restored our two goal lead less than ten minutes later. Our fourth goal came from a penalty, before Kiev got another consolation goal, with our lads walking off the field victorious with a 4-2 win.

Now, Dynamo Kiev are no Barcelona or Milan, or any other team who we actually consider to be European rivals this season (none in particular shine out at the moment), but they are certainly no mugs. Our win came from a perfect combination of us playing outstanding football, and them not knowing how to stop us. This is what it should be like for us in the Champions League, but we didn't come close to anything like that last season. It is important that we also take in to consideration the long list of injuries we travelled to the Ukraine with.

I'm not going to get too carried away. Two convincing away wins in the Champions League doesn't make the trophy ours (although as I said before we even kicked a ball in the competition, I buy in to the romance of the European Cup, and believe it's ours because of the 50th and 40th anniversary this season marks. Call me a big softie and be done with it), but it certainly indicates a new era is on the cards for United. Last season our league form, home and away, was spot on, but we couldn't seem to transfer that over to the Champions League. We beat Bolton 4-0 at the Reebok, the first side to get a result there that season, then lost away to Copenhagen three days later. This season, we're beating Villa 4-1 away, then taking that winning form with us away in Europe days later.

"We've got a few injuries at the moment – a lot of key players missing – but we have a good squad and we know we're capable of winning this competition," said Rooney this week. Ferguson went one step further today, saying, "The last time we had a youthful squad like this, back in 1999, we won the Treble. Now it's time for a new Reds dynasty to step forward, to achieve even more. My mission, our mission, is to make United the undisputed number one club in England, Europe and the world. We want to be challenging, and winning, on all fronts. That's the United way. Never standing still, always striving for higher and higher standards."

Is this a possibility? Winning "the impossible Treble" again? Well of course, and if ever we were going to do it again, it is this season. We have just the right amount of youth and experience, talent and hunger, desire and ability. We have players who have won it before with United, like Scholes, Neville and Giggs, we have players who have won it elsewhere, like Hargreaves, we have some of the brightest, most talented players in the World, like Rooney, Ronaldo and Tevez who are all eager for their first taste of European glory. If ever the Treble was going to be done, it is now, forty years after winning it for the first time.

But personally, I think there is far too much pressure and far too much hype surrounding the Treble. It took decades for just one team to win it once, so the odds are against us if we are going to be the team to do it again, less than ten years after being the first team to do it. Winning the league has to be priority, and I certainly believe that is the most achievable goal out of the three cups. We have the strength in the squad to win the league, but the FA Cup and European Cup do not depend on strength of squad, or quality of players, and desire to win, as much as they do on luck. Playing well on the right day, with no second chances requires luck as much as ability. Being drawn the right times requires luck as much as hunger. Having the needed XI available on the day of the match requires luck as much as strength of squad.

So the important question is, which needs to be addressed before we can even think about the Treble, are we going to be lucky this year? Champions and winners make their own luck. We did in 1999, do you believe we can do it again?




------------
The RoM Manchester United 2022-23 season preview is now available for just £6. It includes exclusive interviews with Patrice Evra and Kleberson, articles from the country's best football writers about our expectations for the season ahead and our brightest talents, as well as proposed transfer business and which youth players to keep an eye out for. All profit goes to Trafford Macmillan so please support this fantastic cause.