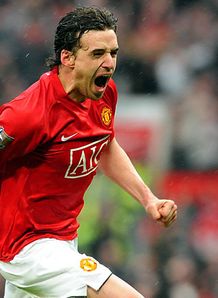 When the signing of Owen Hargreaves was announced last summer, I was made up. Sir Alex Ferguson had been a long term admirer of the England international, who looked to finally be the man to step in to Roy Keane's boots.
Hargreaves made his United debut during derby day at Wastelands. I was massively impressed with his performance. Unlike Michael Carrick, who I do rate very highly, Hargreaves had the presence in the centre of midfield we'd been lacking since Keane left. He took the game by the scruff of the neck and controlled the midfield. If there was anything positive to come from losing to the bitters, it was the anticipation of what a great player Hargreaves could be for us.
Whilst leaving us with nothing to really complain about, Hargreaves' season hasn't really matched the expectation that came following his debut. We wanted him to make a massive impact, but for one reason or another, that hasn't been the case.
The 27-year-old will miss out on the tour of South Africa, following the reoccurrence of his tendonitis problem, meaning Hargreaves will be forced to hit the ground running at the start of next season, in the absence of Ronaldo, Nani and Anderson. Is this something we need to be concerned about?
"Owen has a tendonitis problem in his knee again – the same as he had at beginning of last season," said Sir Alex Ferguson. "He's had a series of injections on it with the specialist and he's training at the moment, it's just the matches he's not involved in just yet. Some people are more susceptible [to this kind of injury]. Norman Whiteside used to have trouble with his knees in pre-season. Owen has started training again after a few weeks off, the ground is firm at the moment and that maybe brought it on."
Louis Saha has left most United fans frustrated beyond belief with his constant injuries making him an entirely unreliable player to have in our squad. Whilst Hargreaves isn't quite at that stage, he still has struggled with injuries to quite a large extent. In September and October he featured in just two matches after suffering with tendonitis and thigh strain.
However, his fitness improved massively over the second half of the season, with Hargreaves proving to be an effective right back as well as central midfielder, with this epitomised with his full back duties in both legs against Barcelona, where we managed to progress without conceding.
Here is a player I want to see a lot more of in the future, imposing himself on our midfield and providing a positive, strong influence in our game. However, because of his injuries at United, as well as the broken leg he suffered in his last year at Bayern, we are left to wonder whether Hargreaves can ever be the figure at United we've expected and wanted him to be.