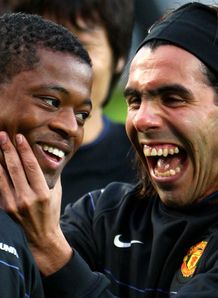 Despite all the verbal abuse and booing Carlos Tevez received from United fans on his last trip to Old Trafford, the Argie striker has repeatedly claimed since he has respect and love for the fans and club, and will not be celebrating if he scores against us.

Patrice Evra, who is still friends with Tevez, has again reiterated the Argie's desire to stay at the club that was in his heart.

"It was not easy for him, he loved United," said Evra. "He had Manchester United inside his heart. It's not easy for him, but he's playing well and scoring lots of goals. He is a champion. He has a great mentality and spirit. He was a good player here, and now he's showing that at City. I just hope he doesn't show it in these games."

Upon hearing that City fans and players believe they are favourites to reach the final, Evra was amused.

"Really? They think they are favourites?" he said. "That's good if they think that. I'm happy with that. We can talk for many hours before the game, but the game starts when the referee blows the whistle. If they think they are favourites then good, maybe that gives more space for us to attack and we can score. I'd be happy with that."

Check out the great odds for this match.

———

Vote for Republik of Mancunia, please.




------------
The RoM Manchester United 2022-23 season preview is now available for just £6. It includes exclusive interviews with Patrice Evra and Kleberson, articles from the country's best football writers about our expectations for the season ahead and our brightest talents, as well as proposed transfer business and which youth players to keep an eye out for. All profit goes to Trafford Macmillan so please support this fantastic cause.