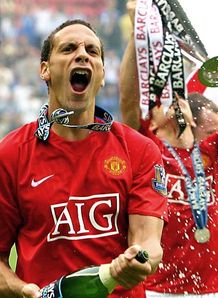 With Platini and Blatter aiding the fight for most unpopular football organisation going, I'd almost forgotten how much I despise the FA.
We all know the FA love to have a pop at United and it seems they have been given their latest excuse.
There was Robbie Fowler's 'five times' goal celebration, intended to wind up United fans, that was ignored just the week before Gary Neville infamously showed his badge to the dippers, which earned him a £5k fine. There was Rio Ferdinand's 8 month ban and £50k fine in the same year that City's Christian Negouai missed a drugs test, only to receive no ban and a paltry £2k fine. There was the three match ban Paul Scholes and Wayne Rooney received in the Premiership after red cards in the pre-season, when Liverpool's Gerrard and Mellor escaped with no punishment when they were sent off in the same tournament a couple of years previously. Not forgetting the time they stitched us up with the FA Cup withdrawal in 1999.
So, it was no surprise when it was announced that Rio Ferdinand could have landed himself in a lot of trouble following the incidents of the Chelsea game towards the close of last season, and now Ferdinand may have to pay the price of the FA's overwhelming desire to make an example out of us, with the England captaincy.
There were reports yesterday suggesting that Rio Ferdinand was to be on the end of a 4 match ban and £200k fine, following his rage filled afternoon at Stamford Bridge.
After pulling a goal back in the second half, making it 1-1, Chelsea luckily won a penalty in the final minutes of the game, handing them what could have proven to be a crucial three points. Ferdinand, a born winner and dreadful loser, erupted. He was booked after a clash with Mikel, following two fortunate goal line clearances from the blues.
As Ferdinand stomped down the tunnel, livid that United were losing their grip on retaining the title, he angrily kicked out at a wall. Unfortunately, his boot made contact with a Chelsea steward, leaving her bruised. From the very beginning though, Tracy Wray, the steward involved, has acknowledge it was an accident. Ferdinand sent flowers and appologised regardless.
The potential ban would not only mean United were without him, along with Ronaldo, Anderson and Nani for the opening weeks of the season, but that he would almost certainly lose out on his opportunity to be named England captain on a permanent basis, as the domestic ban would see him miss the Czech Republic friendly in August, where Fabio Capello will be naming his captain.
What Ferdinand did was wrong, there is no denying that. It was a stupid mistake, similar to the occasion when he blasted the ball in to the Stretford End at that old lady, which arose from his frustration. However, for the FA to make such a fuss over an accident, costing him the chance to captain his country, would be appalling, but sadly, I expect nothing better from them.
However, as much as the FA would enjoy making an example out of Ferdinand and United again, reports today suggest that the investigation is still going on, and the player is unlikely to face any serious repercussions.
As the investigation continues, hopefully Ferdinand will pick up a fine at the most, and the truth behind what was thought to be a racist attack on Patrice Evra will be revealed and dealt with appropriately.
Whilst not overly concerned with England's situation, I am concerned about our own players, and I know being made captain of his country would be something Rio would love. I also will take in enjoyment in seeing Liverpool's Steven Gerrard and Chelsea's John Terry overlooked in favour of one of ours. It seems as though the England captaincy is still something Rio is a firm favourite for, and I wish him the best of luck.