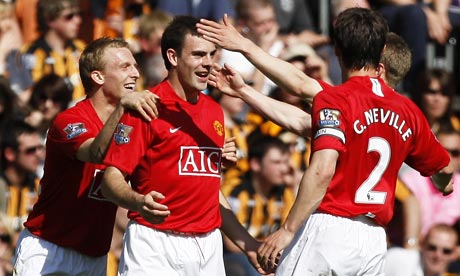 The press have reported that Danny Simpson, Frazier Campbell and Darron Gibson have all been put on the transfer list, with the aim to raise a bit of cash to put in our transfer kitty. Disappointing, Simpson hasn't even been able to get in the Blackburn side since early March, and whilst Campbell's stint at Tottenham was more successful, it was nothing to write home about. Aside from the two goals he scored against Liverpool to knock them out of the League Cup, the Spurs' fans haven't been too impressed with the player who came to sweeten the Dimitar Berbatov deal.
But Gibson?
When I first started watching Gibson play I wasn't too impressed. I remember distinctly that his performance in Solskajer's testimonial didn't do him any favours. Given that it was a relaxed, low-key match, Gibson looked totally out of his depth. I didn't think he had it, whatever 'it' is. The thing that makes you go 'he's a United player'.
Still, I'm more than happy for our young players to prove me wrong, and Gibson has come some way to doing that. His greatest asset has to be his shooting ability, with him already scoring a couple of screamers, including his début Premiership goal against Hull, but more impressively, his finish at Peterborough in the pre-season.
He's by no means the finished product and he has a lot of improving to do, but I guess the change in Darren Fletcher has given me hope for any of our young midfielders showing some potential. He doesn't look like a special player now, maybe he never will be, but he deserves at least another season, doesn't he?
If this rag has got it right, then I can only assume United are looking for the finished product already, given the news that Hargreaves won't be back for some time, if at all, so would rather cash in on Gibson now, knowing that he won't really ever get the chance in the team.
Campbell to Hull, Simpson to the Championship, but let's keep Gibson on our books please.