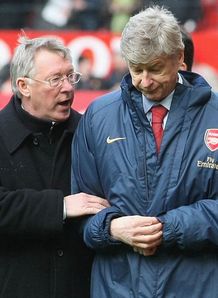 Sir Alex Ferguson and Arsene Wenger seem to get on fairly well these days. Even last year when Arsenal were in the title race for the majority of the season, the two managers rarely locked horns.
At a recent LMA fundraiser, Wenger and Ferguson looked like best buds, having a laugh and a joke with each other.
Of course, it wasn't always this way, with the tunnel brawl between the two clubs seeing the climax of the bad feeling between the two managers. After many heated clashes between the two clubs, with the Premiership trophy going back and forth between Old Trafford and Highbury, it is understandable why the rivalry would be so fierce.
Ferguson has attributed Wenger's longevity in the job as well as the trophies he used to deny us of as reason enough for the Frenchman to be his biggest rival.
"Well over a long period Arsene Wenger has been the longest survivor in terms of rivalry and particularly between the two clubs Arsenal and Manchester United has been a fantastic competition over the years," said Ferguson in his interview with CNN. "And of course with Arsene staying as long as he has that's persisted. Whereas, if you take Chelsea, they've had three managers in the past three years, Liverpool have had seven managers in the time I've been here. No-one has survived as long as Arsene so he has to be the main rival."