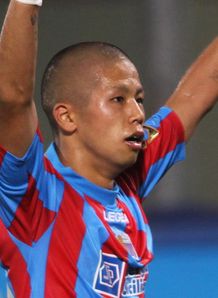 Catania general manager, Pietro Lo Monaco, claims that Sir Alex Ferguson is interested in their 21-year-old striker, Takayuki Morimoto. Catania are a small club in Italy, finishing sixth from bottom in Serie A last season, which leads Lo Monaco to believe they have no chance of holding on to the young star.

AC Milan's Alexandre Pato recently claimed Morimoto is the best young player in Italy and likened him to Brazilian legend Ronaldo.

"We'll transfer him to a big club at the end of the season," Lo Monaco said. "We, only a small club, can do nothing more for him. We've already received important offers from England and France this summer as well. Manchester United coach Sir Alex Ferguson also highly rates him."

The 5'11" striker scored on his debut in Italy after coming on in the 83rd minute.




------------
The RoM Manchester United 2022-23 season preview is now available for just £6. It includes exclusive interviews with Patrice Evra and Kleberson, articles from the country's best football writers about our expectations for the season ahead and our brightest talents, as well as proposed transfer business and which youth players to keep an eye out for. All profit goes to Trafford Macmillan so please support this fantastic cause.