Manchester United fell to a 1-0 defeat to a sturdy Chelsea side, who moved one step closer to the Premier League title. It was a harsh defeat but the Red Devils will have learnt a massive lesson after failing to break down Jose Mourinho's men. David De Gea's main rival for PFA Player of the Year, Eden Hazard, scored the only goal as he slotted the ball under the Spaniard. That piece of magic was enough to halt United's six game unbeaten run.
Radamel Falcao was handed a rare start and was dispossessed on the halfway line in the build-up to the Chelsea goal, even though it did appear to be a foul by John Terry. Luke Shaw and Paddy McNair also came into the side as Wayne Rooney dropped back into midfield as a matter of necessity but unfortunately for United, their efforts were all to no avail as their faint title chances came to an end at Stamford Bridge.
Here are five key thoughts following United's defeat to Chelsea.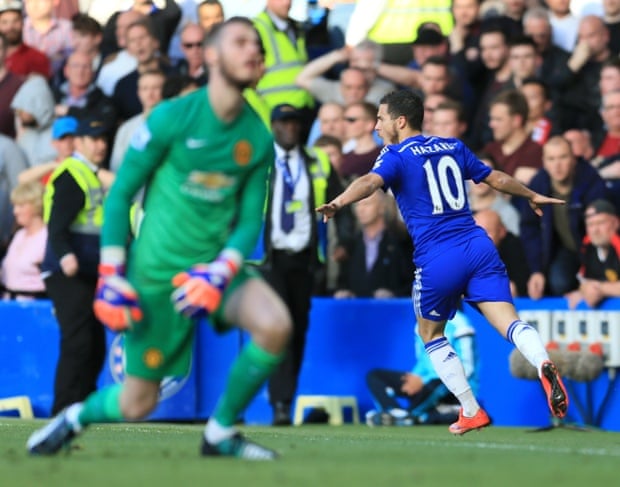 1) United were extremely unlucky to lose
Despite a host of injury problems which saw Michael Carrick, Daley Blind, Phil Jones and Marcos Rojo miss out through various injury problems, United were the better side for long periods of the game and deserved at least a point. It was a patched up defence and midfield that Louis van Gaal fielded but it rarely looked threatened as Chelsea struggled to even get out of their own half.
However, one moment of magic from the lively Hazard was enough for Mourinho and Chelsea. That goal which saw them take the lead, gave the Blues something to sit on and they managed to hold onto what they had. It may not have been a pretty performance but Chelsea will not be complaining as the Premier League title is now just six points away. As for United, there is definite promise for next season that they will be able to overhaul Chelsea and regain the title.
2) Midfield manages to control the game but lack of penetration and poor finishing let's United down
Rooney was forced to drop into midfield in Blind and Carrick's absence and played alongside Ander Herrera in a very attacking-looking line-up. United monopolised possession of the ball and did not allow Chelsea any chance to get hold of it and raise the tempo. The Blues were made to rely on counter attacks and were arguably quite lucky to come away with the three points thanks to Hazard's one moment of brilliance.
United did control the game from start to finish but they did lack their usual penetration and played far too many sideways passes. When they did get into goal-scoring positions, their finishing did let them down. Falcao and Rooney both had opportunities and they will feel that they should have done better. On another day, the result could have been different but the fact is, United failed to test Thibaut Courtois enough.
3) Michael Carrick's absence is felt massively
The news of the four injury absentees hurt United fans but the one which had the biggest impact on the outcome of the game was undoubtedly Carrick's missing presence. The 33-year-old is calm and composed on the ball and is always looking to play a forward pass through the lines. United were too conservative with their passing and missed Carrick's talents in possession.
Not only that but the lack of a natural defensive midfielder cost United the game. Herrera is an excellent player but he is not disciplined enough to play as the deepest midfielder. He is at his best with cover in midfield with licence to influence proceedings further up the pitch. The Spaniard took a risk by trying to block the inside pass on the Chelsea goal and paid for it as he left the two centre backs exposed, allowing Hazard to waltz through and fire the Blues to victory.
4) Luke Shaw impressive on return to the side
On the other hand, Blind's absence was not felt as much as Carrick's. The Dutchman has struck up a fantastic partnership with Ashley Young and Marouane Fellaini down the left with his sheer positional intelligence shining through but Luke Shaw offered different strengths. The Englishman had a superb return to the side and it was a surprise to see him substituted after a fantastic performance.
Shaw was excellent going forward and offered United a huge threat on the overlap. Young may not have been as influential as he was in the Manchester derby but Shaw often got himself into dangerous positions. He had nothing to do defensively so he was able to maraud forward at any given opportunity. Shaw's pace and power was devastating at times and forced Branislav Ivanovic to pick up a booking. The left-back has undoubted potential and will be a key member of this United side for years to come.
5) Credit to Jose Mourinho – Fellaini's threat was stifled
Marouane Fellaini has been United main threat going forward in recent weeks as his physical presence has caused opposition defences all sorts of problems. The tactical ploy to direct diagonal passes was stifled by a Chelsea side who had planned for this in advance. Mourinho decided to field Kurt Zouma and Nemanja Matic in front of the back four and with the height of Ivanovic also at right-back; Fellaini's aerial threat in particular was halted.
But it has been Fellaini's ability to bring the ball down in the final third and influence play that has been the most impressive aspect of his game. Chelsea were all over him and did not allow him to have any time to do this. They matched his physicality and were able to completely nullify the Belgian. Fellaini has improved massively this season but this game showed that he can be stopped and perhaps should not always be the Plan A.