Manchester United were knocked out of the FA Cup after a 2-1 defeat at the hands of Arsenal at Old Trafford. Former Red Devils striker Danny Welbeck scored the winner after a Wayne Rooney header had quickly cancelled out a Nacho Monreal opener.
In an entertaining but ultimately disappointing evening, Angel Di Maria also saw red for grabbing referee Michael Oliver's shirt after being booked for diving. The result means another trophy-less season for United with a top four finish now taking on even more significance.
Here are five key thoughts following United's first home defeat to Arsenal since 2006.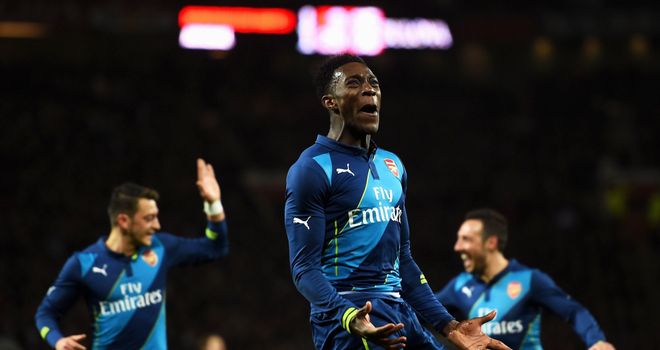 1) Welbeck comes back to haunt United
This night will always be remembered as the night that Danny Welbeck returned to haunt his former club. After being deemed surplus to requirements by Louis van Gaal due to his poor goal-scoring record, it was almost inevitable that he was to be involved on his return to Old Trafford. Welbeck was clinical as he snapped up Antonio Valencia's stray back-pass before coolly rounding David De Gea and slotting home.
Many expected a muted celebration from the former United man if he were to score but Welbeck decided to celebrate and rightly so, in my opinion. I have never been a fan of player's returning to their former club and choosing not to celebrate. Anyway, Welbeck did not choose to leave, he was forced out. He had every right to celebrate.
2) United desperately need a proper right-back
Antonio Valencia was originally a make-shift right-back but his consistent displays have seen him rewarded with a regular starting berth in that role. Unfortunately for United, his inexperience in that position was the reason they are out of the FA Cup. He was at fault for both goals after being out of position as Monreal struck in the first half before his terrible back-pass let Welbeck in for the winner.
United have struggled to replace Gary Neville since his retirement and must prioritise signing a proper right-back in the summer. Chris Smalling, Phil Jones and Paddy McNair have all played in the position in recent years whilst Rafael was Sir Alex Ferguson's staple pick before his retirement. However, due to poor form and injuries, the Brazilian is now seemingly surplus to requirements.
3) Di Maria much improved before his red card
Let's get one thing straight – Di Maria's red card as completely idiotic. Whether it was a dive or not, the Argentine should not have given the referee the option to penalise him and to grab his shirt in the aftermath was just ridiculous. It's tough to work out what was going through his mind in that split second.
However, despite this incident which will overshadow everything, Di Maria was excellent before his red card. He was dangerous both in possession and running in behind the Arsenal defence. The Argentine's pace was a real threat to the Gunners and his crosses were hitting their target. The whip he generated on the cross which led to Rooney's goal was stunning and if he can return from suspension in that sort of form, United's top four chances will improve significantly.
4) Decision to take Herrera off at half time was baffling
Van Gaal's double substitution at half time left me scratching my head. Taking Luke Shaw off is fine if he was not fully fit but why start him in the first place? But the major issue I have with this decision is the fact Ander Herrera, the player who was linking defence and attack was taken off. Yes, he was on a yellow card but if anyone, it was Daley Blind who deserved to be taken off after a sloppy first half display.
Herrera's absence in the second half left United with a gaping hole in between the Michael Carrick-Blind pivot and Fellaini, who looked leggy in the number 10 role. It led to United seemingly in a 4-2-4 formation rather than the 4-2-3-1 which they were supposed to be set up in. This meant Arsenal had too much space to keep hold of the ball and the pressing we saw in the first half become non-existent whilst also encouraging the longer ball up to Fellaini even more.
5) It's make or break time for Van Gaal – Champions League qualification is a necessity
The quarter-final exit means United have now gone 11 seasons without winning the FA Cup which is extremely disheartening. It also means that finishing in the Champions League places becomes an absolute necessity, if it wasn't already. With Arsenal, Liverpool and next week's opponents Tottenham in tremendous form, it will not be an easy task. It's not nice saying this, but it is now make or break time for Van Gaal.
Should the Dutchman fail to guide United to a top four finish, this season will be a complete disaster. The Red Devils have failed to get close to winning a trophy and have not deserved to in all honesty. Performances in the last few months have not been good enough and they must improve quickly if Champions League football is to return to Old Trafford. Should Van Gaal fail to achieve that, his job will undoubtedly be on the line.