Manchester United secured another impressive victory with a 3-1 win over Aston Villa at Old Trafford. In a game in which they dominated for the majority, United moved, perhaps temporarily, ahead of rivals Manchester City in the Premier League table. Ander Herrera scored twice and Wayne Rooney scored a spectacular volley to make it five straight wins in the league.
United made just one enforced change to the eleven which beat Liverpool last time out, with Marcos Rojo returning to the starting line-up in place of Chris Smalling, who was ill. The Red Devils will be extremely pleased with their afternoons work and they now have an eight-point cushion inside the Champions League places.
Here are five key thoughts following United's 3-1 success at Old Trafford.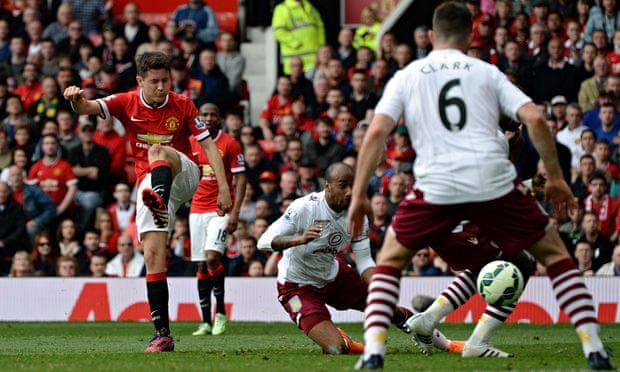 1) It's baffling to think Rooney was in midfield instead of Herrera earlier in the season
United look so balanced in all areas of the pitch at the moment. Since switching to Louis van Gaal's favoured 4-3-3 system, Wayne Rooney has moved back to his preferred striking role and his inspired form has made the decision to field him in midfield regularly earlier in the campaign completely baffling. It is even more puzzling when you consider the fact, his place in midfield came at the expense of Ander Herrera, who scored twice on Saturday.
The Spaniard is quickly becoming a fan favourite at Old Trafford and it is not hard to see why; he is a wizard. Herrera is energetic enough to get forward and do his defensive duties. He is a tough tackler, accurate passer and clinical finisher. United have been missing somebody like him in their midfield for a long time. The decision to start him regularly appeared to be a no-brainer when he was languishing on the bench and it has been proven correct.
2) The Van Gaal 'philosophy' is coming good at the right time
Van Gaal eluded to his use of 'triangles' in this system that United are currently utilising but there appears to be much more to the renaissance than a mere change of formation. The Red Devils are playing with much more control and pace in possession and it is excellent to see. United are beginning to look like a force again and are dominating games with ease.
Against Villa, they ended the game with a 91% passing accuracy, having maintained a 70% possession rate. These numbers are unprecedented from United in the last couple of years but it is not just their ability to keep the ball which has been the most impressive. United have been playing with more pace and thrust in the last few weeks and are creating numerous chances to score. No one knows exactly what Van Gaal's philosophy is but it appears to be coming good at exactly the right time.
3) Daley Blind is nailing down the left-back slot
Blind appeared to be a temporary fix until Luke Shaw returned from injury but it seems that the Dutchman may be United's left-back on a regular basis after a series of fine displays. He links up with the attackers very well going forward as he is extremely confident on the ball. Blind was involved several times down the left flank against Villa, offering United a consistent outlet and linking up with Ashley Young well. He topped off his display with an assist and three chances created.
By moving Blind to left-back, Van Gaal has solved the riddle of being able to put him and Michael Carrick in the same side. They are very similar midfielders but Blind's versatility means he can fill in at left-back with ease. He is a very clever footballer who reads the game well and makes up for his slight lack of pace with fantastic positioning due to his knowledge of the system and philosophy.
4) Consistency in selection is paying dividends
The one enforced change due to the illness Smalling picked up whilst on international duty was the only change United have made to their starting line-up in the last three games. During that period, the Red Devils have beaten Tottenham, Liverpool and now Aston Villa and have definitely found a winning formula. Not only have United become a ruthless force but they have been very entertaining too, dominating games from start to finish.
It all bodes well for the final seven games, which include matches against Man City, Chelsea and Arsenal, the three other sides in the top four. The winning formula which Van Gaal has found must be stuck with as United have gone from looking extremely bland and predictable to exciting but dominant in a matter of weeks. It is no coincidence that it is down to the fact that we now know United's best team and formation, having been in so much doubt throughout the campaign.
5) Five straight wins means United go into the Manchester derby with second place in their sight
Who would have thought it? Before the win against Spurs a few weeks ago, most pundits and journalists predicted United to finish outside the top four after months of stale, dull performances. It has all turned around now as the Red Devils go into the Manchester derby next Sunday in great spirits, coming off the back of five straight victories in the Premier League.
The win over Villa may have moved United above City in the table but Manuel Pellegrini's side have a game in hand at Crystal Palace on Monday night. However, should United pick up their first win over their local rivals since December 2012, they will be in pole position for at least a top three finish and will have second place in their sights. Although the title may be out of their reach, most United fans will settle for that as long as they mount a title challenge next year.