Manchester United bounced back from their FA Cup exit at the hands of Arsenal with a convincing victory against Tottenham Hotspur at Old Trafford. Goals from Marouane Fellaini, Michael Carrick and Wayne Rooney sent the Red Devils just two points behind Manchester City and one behind Arsenal.
With the crunch clash at Anfield against rivals Liverpool to come next Sunday, the win over Spurs, which effectively ended any hope of the visitors making the top four, was the perfect way to prepare. United must continue this momentum and play at the same tempo next weekend.
Here are five key thoughts from the excellent win over Spurs.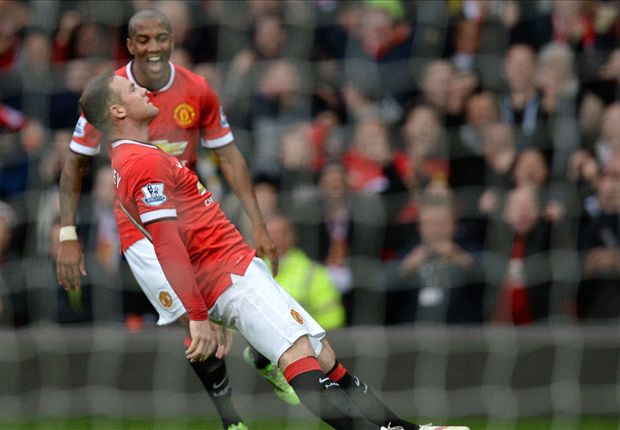 1) The best performance under Van Gaal to date
This was completely different to the 3-0 success over Liverpool back in December. On that occasion, the visitors had countless opportunities to score with United's clinical finishing and David De Gea's heroics between the sticks masking what was a well-matched affair. On Sunday, United played Tottenham off the park from the first whistle as Mauricio Pochettino's men struggled to cope with the tempo Louis van Gaal had his team playing at.
United played many more forward passes than usual and showed that the ball is quicker than any player. If you looked at the starting eleven, you would not associate it with pace but United's passing and movement was so fast and neat that it was impossible for Spurs to cope. Van Gaal's men have convincingly beaten many lesser sides at home this season but Spurs are a completely different animal who have been in fantastic form. To completely nullify them and dominate that game was very impressive to say the least.
2) Rooney is United's best striker by some distance
The build-up to this encounter had been all about Wayne Rooney and the boxing story which had broken on Sunday morning by the Sun newspaper. They had released footage of Rooney being knocked out in a boxing bout by his friend and former United defender, who is now at Sunderland, Phil Bardsley. The United striker responded after his goal with a knockout celebration where Rooney fell to the ground in the same manner as in the footage.
This was a fantastic moment and one that will live long in the memory but it was Rooney's tireless all-round performance which showed what United have been missing this campaign. The captain worked his socks off and constantly stretched the Spurs defence, giving them all sorts of problems. Robin van Persie and Radamel Falcao have been so static this season and Rooney in that sort of form is better than both of them. It was like the 2009-10 season all over again.
3) Mata and Carrick must keep their places
Sunday saw the return of Juan Mata and Michael Carrick to the starting eleven. What followed was United being much more positive and quick in possession and a comprehensive victory in which both players received a standing ovation when they were substituted late in the second half. Both players should keep their places for next week's clash with Liverpool because United are a better team with those two and Ander Herrera in their midfield.
United have won 12 games with Carrick in the side this season compared to six without him and he did his usual job in front of the back four here. He played excellent, crisp passes through the lines and was rewarded with a rare goal. Meanwhile, Mata played on the right wing where he had played at Chelsea for spell and did not disappoint. He constantly found pockets of space in behind Spurs' midfield, linked up with Herrera superbly and showed that you do not need bags of pace to be effective in cutting off that wing.
4) Di Maria for Young should be the only change for the crunch Liverpool game
Many critics stated post-match that Angel Di Maria's suspension was a blessing in disguise for United. Despite the magnificent performance, I wholeheartedly disagree with that. The Argentine may not have been in the greatest of form this season but he is undoubtedly part of United's best eleven, especially when you play with wingers. Ashley Young did not have his best game against Spurs so Di Maria should return to the side against Liverpool on his favoured left wing, where he is capable of delivering some deadly crosses for Rooney and Fellaini.
Di Maria was just starting to find some form against Arsenal last Monday before he stupidly got himself sent off but now he has served his time, he should return to the team. The Argentine's pace on the counter attack could be crucial in an away game and it would be nice to see him given the chance to shine from a wide position with two real targets in the box and in tandem with Mata. I mean, look at his cross for Rooney's header last week. Truly world class.
5) Blind is a better left-back than Shaw at present
Luke Shaw has incredible potential but he is still adapting to life at a big club like United. Daley Blind showed against Spurs that he is currently the best left-back at the club and the only way to fit him and Carrick into the same side is for the Dutchman to revert to this role. Blind is not the quickest but he is very intelligent and his ability to support Young and Fellaini down that side was unbelievable on Sunday.
He worked his socks off and was able to keep attacks going by showing excellent awareness to cut Tottenham attacks off at the source. He also showed off his fantastic crossing ability and gave United plenty of options as they overloaded the left-hand side of the pitch. Added to that, he was never caught out of position defensively. Who needs pace at full-back when you have Daley Blind's engine?