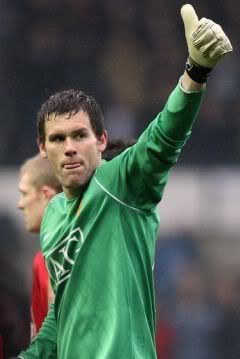 The shock of the week had to be Harry Redknapp deserting Portsmouth, again, in favour for the job at Tottenham Hotspur. He repeated over and over what a massive club Spurs were and how he couldn't say no, despite the club picking up just 5 points from a possible 27.
Since then, Cesc Fabregas has claimed the Arsenal Ladies side would be too good for Spurs, and even though they picked up their first win of the season at the weekend against fellow strugglers Bolton, the pressure is on as they travel to the Emirates today.
Redknapp will be wanting to bring in the players required to save them from relegation, as well as get rid of the dead weight. Heurelho Gomes, whose mistakes have cost his team in the league and in Europe, looks set to be the first player to be dropped, with reports suggesting Ben Foster is wanted as the replacement.
After suffering another injury at the beginning of the season, Foster's career has again been put on hold, with him making more appearances for the Reserves, rather than battling it out for a first team place. He is keen to get in to our team now, but concedes he may have to go on loan first.
"I want to be playing football, that's the main thing for me," Foster said last week. "As a goalkeeper at my age now, that's when I need to be kicking on. I need to get more games under my belt. The two years at Watford were fantastic for me to be able to play week in, week out and be No.1. I'm not sure what the gaffer is thinking. If he wants to send me out on loan, it's up to him, but I want to kick on here."
If Redknapp's interest is genuine, then maybe some sort of an agreement could be reached. There is no way Sir Alex Ferguson would consider selling Foster, knowing how highly he rates the keeper, but a loan deal could be on the cards. We've already got one player on loan there, Frazier Campbell, who's had 5 appearances in the league and UEFA Cup.
However, if United are to progress in the League and FA Cup, would we need Foster to go out on loan? Or do you think it would be better for his career to get regular football, even if away from Old Trafford?