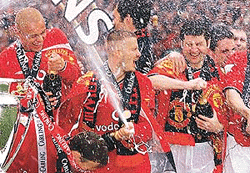 At the start of the season, it looked as though we were about to face yet another year of disappointment. Ok, so our worst season since the origination of the Premiership is finishing 3rd and winning nothing, but with the high standards United have set themselves, that kind of season is a huge disappointment.
Chelsea won their opening 10 games on the trot, whereas United only managed 5 wins, 3 draws, and 2 losses. Things weren't looking good. Following a 4-1 thrashing by Middlesborough, we were beaten 1-0 by European nobodies Lille. We had games where John O'Shea was our best available centre back, Richardson and Bardsley were our best available full backs. Ferguson, for some reason unbeknown to the fans, kept on playing that prat Fletcher. The press was on our back, rival fans were telling us to kiss the glory years goodbye, and we were supporting a team who lacked ambition, drive and confidence.
Then Keane left, which surely should and could have been the final nail in United's coffin. But somehow, and it still is rather puzzling, we pulled ourselves together. The team started accepting responsibility for how they were playing. They started trying again, and although still frustrated at times, with draws at home to the likes of Everton who we completely annihilated, but couldn't find the back of the net, more often than not, started looking like a real team again, with Gary Neville as the leader.
The song goes "Gary Neville is a red, he hates scousers" and I've heard that song sung at Old Trafford more times this season than ever before. Time and again he showed that he was a true red, that he was passionate about this club, and was determined to lead us to great things again.
And so here we are, entry in to the top two teams for the first time in a couple of years, with a trophy in our cabinet. No, not a trophy of preference, but a trophy nevertheless. And no, finishing 8 points behind the leaders is not close enough for us. But does this give us hope for next season? Does this put fear back in our rivals? Of course it does.
With a team that has been mocked for months of the season, and labelled by the fans as much as anyone else as our worst lineup in years, we've proved to be the 2nd best team in England. Better than Liverpool who have shoved "5 times" down our throat all season, and better than Arsenal who robbed us in Cardiff last year. Is it shameful that a midfield with the likes of Fletcher, O'Shea and Smith hasn't been able to compete with Lampard, Makelele and Essien? Course not. But we can talk about Roman all we like, it isn't going to change the fact that if we want to win the title next year, we have to improve. We have improved this season, and should continue to improve next season. This is in comparison to Chelsea, whose own manager admits they haven't got any better this year.
In 14 years of the Premiership, the league has been won with our total for this year, 83 points, and below, 6 times. United won it 5 of those times. In the past 3 years this bar has been raised though, firstly by Arsenal in their unbeaten season, and in the past couple of years by Chelsea. United not only have the ability to raise this bar next season, but the passion. The fans, the players, the manager have passion for United running through their veins. It's that passion I believe that tips the scales in our favour. No, we can't compete with Chelsea's money, and we never will be able to. But we have a manager who loves this team like a family (unlike Mr Mourinho who confessed moments after winning the title that on a number of occasions that year, in his 2nd year of management, he'd contemplating packing it in) and players like Gary Neville, Paul Scholes, Wes Brown, Alan Smith, Ryan Giggs, to name a few, who give 100% every time they play, from the first whistle until they have the game won.
So, will next season be our year? Who knows. But there's every likelihood we'll be seriously competing, and I don't think there'd be too many surprised people if the trophy was on it's way back home to Manchester next year.