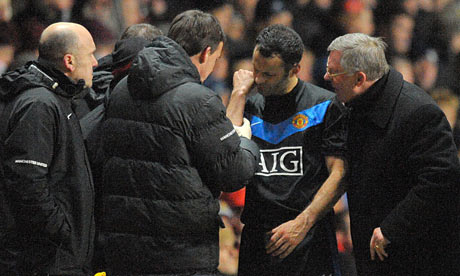 With Nani hitting great form, Antonio Valencia, who had been voted by the fans as our best player in November and December, was pretty much forced out of the starting team. It was apparent Nani played better on the right wing, which understandably better suited his right-footed ability. Valencia, who was last seen touching the ball with his left foot approximately three years ago, also needs a spot down the right wing.

So Nani got the spot on the right, whilst Park played on the left at the Emirates, when a defensive left winger was needed, and Giggsy played down the left against City, where creativity was key.

How quickly things change.

Nani was given a straight red card against Aston Villa and Ryan Giggs broke his arm after Steve Sidwell jumped in to him.

Our Portuguese winger will now miss our away match at Everton, home match against West Ham and the League Cup final. Giggsy is set to miss the same as well as at least one of our matches against Milan.

From being spoilt for choice we now have limited options with important games on the horizon. Will we see more of the 4-3-3 but with a similar line-up to last season, with Rooney on the left, to compensate? I hope not.




------------
The RoM Manchester United 2022-23 season preview is now available for just £6. It includes exclusive interviews with Patrice Evra and Kleberson, articles from the country's best football writers about our expectations for the season ahead and our brightest talents, as well as proposed transfer business and which youth players to keep an eye out for. All profit goes to Trafford Macmillan so please support this fantastic cause.