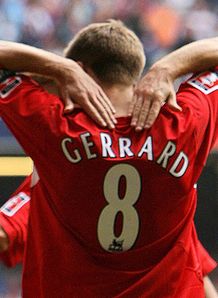 The love and affection Liverpool fans have for Steven Gerrard has baffled me ever since he handed in his transfer requests. This fella claims to love the club but on two occasions was tempted to leave to become a rentboy, of all things.
The problem with Gerrard is, despite his talent, he loves himself far more than he will any club he plays for. When you contrast him with Gary Neville, who's never had bags of talent but has been driven by his desire to play for our club, he only comes off looking even worse.
"I still wonder why I was invited back every year, and it can only have been attitude," Neville has reflected in the past. "If training started at 5pm, I would be there at 4.15, passing against a wall. I knew I had to do that when I saw the skills of local lads like Paul Scholes and Nicky Butt at 13. If you aren't the most talented player in the world, you have to sprint to keep up. You have to make sacrifices. When I left school at 16, I made the conscious decision that I would cut myself off from all my mates. It sounds brutal but I knew that they would be doing all sorts of teenage things that I couldn't get involved with. My dad told me: 'You've got two years to give it a real go. Never look back and wish you'd done more.'"
Neville was never going to be a superstar and he never wanted to be one. He wanted to be a Manchester United player. The way he conducts himself on and off the pitch is testament to that. He doesn't want to be in the spotlight he just wants to do well for our club.
"I always tell the young players here if you look down at your shirt and see a Manchester United badge, you're not having a bad day," Neville has said. "You're doing all right. The day I don't have the United badge on my chest will be a sad one for me. I don't think I can ever have the same feeling playing for another football club. I always say this to the fans when they talk about who owns the club or who the directors are or who the chairman is: when you first walked into that ground at the age of five or 10, you didn't walk up the steps from the refreshment bar and think, who's that sat over there in the directors' box? You fell in love with that team running out in that red shirt, in that great ground, on that green pitch. That was what drew you to the club and made you think, wow, that's got me. And it's an addiction you have for life. It was walking into the stadium, that's what gripped me, the size of it — I was in awe of the whole place. I just love everything; the badge, the history. I saw men screaming, with the veins coming out of their neck, on Deansgate the day after we won the European Cup. Nothing in their life made them do that before, nothing in their life made them do it since. You can spend 30 quid on nothing these days, on absolute rubbish. Or you can get the buzz of your life out of watching United."
United is the be all and end all for our captain and his attitude is reflective of the fans. United is the pinnacle and everything else comes second.
"Getting back into the England squad is not something that I think about," Neville has said. "Playing for United has always been the most important thing for me and remains so. If England recognition comes, that's a bonus – but it's not something that I think about too much. I've always considered it an extension to playing for United."
Winning with United is all that counts and if he can't win with United, then United winning is good enough. In his grey suit in the pouring rain of Moscow, Neville was jumping about like a loon on the pitch, hugging our players and manager, celebrating like a fan… because he is a fan.
Can you imagine Gerrard behaving in the same way? Had he missed out on the second greatest season of Liverpool's history and had to watch his team win the European Cup from the sidelines, would he have taken the same joy Neville did, or would he have been gutted that it wasn't all about him?
The thing is, Gerrard's priority isn't Liverpool. In fact, Liverpool don't even come second.
"When I join up with England, these games are bigger than Champions League games or league games," Gerrard said in 2007. "If you go to a major tournament and play well or achieve something as a team it's going to be a lot bigger than achieving something at your club."
Stevie Me, as he is known, likes being centre of attention. When he scored that fabulous winning goal in the 2006 FA Cup final, he ran to the fans and turned his back on them, tapping his name on his shirt. It wasn't a Liverpool moment, it was a Steven Gerrard moment. Compare this to Gary Neville, who took great pride in showing off his badge to the travelling support when Rio Ferdinand scored an injury time winner a few years back.
Compare this even to Wayne Rooney, our adopted scouser. At this point, let's make clear the difference between Liverpool scouse and Everton scouse. Everton scousers rip the shit out of Gerrard and join us in trying to bring awareness about those 39 Italians who deserve as much justice as any others killed needlessly at a football match. Our enemy's enemy becomes our friend, so whilst I'm not waving the blue flag of Merseyside, it is important a distinction is made when we talk of 'scousers'. After all, any member of the Neville family wouldn't dream of pulling on the shirt of those bastards, but will happily captain the team that despises them.

Rooney kisses our badge instead of tapping his name on the back of his shirt, but that's by the by. What is important is the 100% he gives to every game and his desire to win. It doesn't become the Wayne Rooney show when he's on the park but his determination to help United win is what the fans love him for. He isn't interested in being Mr Big Time, he just wants to play football, he wants to win, he wants to lift trophies, and at the end of it all, he wants to go home to the missus and play on his PSP.

When United beat Liverpool 3-0 at home last season and Steve Gerrard went missing against us (again), he didn't think about the fans' feelings, who understandably were licking their wounds after a thrashing, rather gave the highest praise to young Rooney, claiming he ripped Liverpool to shreds.

"I've seen him do it [play up front alone] with Manchester United," Gerrard said. "He destroyed us at the weekend with his direct running and making it difficult for defenders."

Rooney destroyed them? Ouch. Can you imagine either Neville or Rooney making any such comment in the light of a 3-0 defeat at the hands of the dippers? Course they wouldn't!

Regardless, it is somewhat comforting to read the perspective of Liverpool-supporting Tony Evans, who gives an insight in to a fan's view of Gerrard that we don't see very often. It has long-puzzled me why they still sing his name on a weekly basis (particularly considering how much we've given the cold shoulder to Ronaldo, who never handed in a transfer request and never proclaimed he was a United lad through-and-through, on the contrary, always being honest about his intentions to one day leave for Spain) after the way he treated the club and still continues to behave.

Almost from the beginning, more than ten years back now, there were those who found Gerrard's demeanour irritating. As soon as it became clear that here was a prodigious talent, the critics in the stands saw room for complaint. At times, the youngster appeared to be looking for the flashy 'Hollywood' pass when an easy ball was the preferred option.

Gerrard was earning the nickname 'Stevie Me'. When he scored, he pointed to his chest frantically. When he was used on the right of midfield – which the Kop, almost to a man considered his best position – he seemed to sulk, yearning for the central role the media demanded. And, in the big games, the alehouse tittle-tattle said, he disappeared. That meant, in simplest terms, he'd never destroyed Manchester United single-handedly. Yet, by the time Benitez arrived, he seemed to feel he was the dominant power at the club.

The perfect example of ambivalence to Gerrard came in Istanbul. After he scored Liverpool's opening goal, he turned to rouse the crowd, gesturing with his arms for fans to turn up the volume. The volume rose, for sure, but there was an irritated growl behind it: we didn't need lesson in support from him. Afterwards, he hogged the cup, with only Jamie Carragher wresting it away for any length of time. Not the Liverpool way. Not the work of a captain, either.

The there was the flirtation with Chelsea. It was almost too much to bear to see a Scouser apparently determined to take Roman's roubles.

It's reassuring to see there are some scousers with sense! Although I won't hold my breath on hearing them praise the attitude of Neville or Rooney ahead of Stevie Me!

You can look at the reasons why Liverpool are still unable to compete with us properly for the title. You might fancy Rafa's idea about transfers, Martin Samuel's ideas about us simply having a better squad… or maybe you look to the most important players at each club, the leaders. Gerrard is a poor man's Gary Neville or Ryan Giggs when it comes to commitment and love for the club, which certainly might go some way in helping explain why United look set to claim their third title in a row and match Liverpool's total, whilst they look increasingly likely to make it nineteen years since winning the league.




------------
The RoM Manchester United 2022-23 season preview is now available for just £6. It includes exclusive interviews with Patrice Evra and Kleberson, articles from the country's best football writers about our expectations for the season ahead and our brightest talents, as well as proposed transfer business and which youth players to keep an eye out for. All profit goes to Trafford Macmillan so please support this fantastic cause.