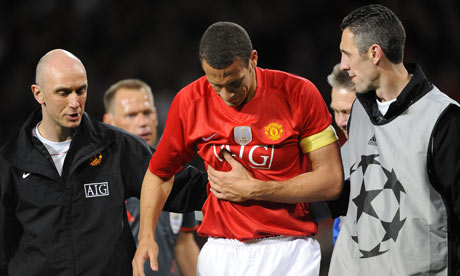 Rio Ferdinand was substituted with three minutes remaining in Wednesday's 1-0 victory over Arsenal in the Champions League. A stretcher came on for him inititally but in the end he was able to walk off the pitch, obviously in pain.
Rio went straight to hospital in an ambulance with United left to fear he had broken his ribs, which could have ruled him out for the rest of the season. He left hospital with good news though, that nothing was broken, rather was suffering from severe bruising and swelling.
Whilst this will rule him out on Saturday's match against Middlesbrough, it is very likely he will be able to turn out at the Emirates next week.
Our defender has been given strong painkillers and is under strict instructions to rest up this weekend, with the hope of taking part in United's training session on Monday before travelling down to London.