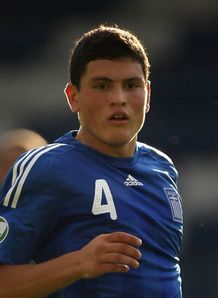 Greek teenager, Kyriakos Papadopoulos, has been occupying several headlines over the past few months after a host of clubs have made it known they are keen on luring him away from Olympiakos.

The 16-year-old is built like a brick shit house but apparently his strength isn't his only asset, with him also having a lot of pace.

Papadopoulos has today responded to the rumours, claiming he would have no problem with leaving Greece and would be proud if he was to play for United.

"It's an honour for me to hear that Manchester United show interest," Papadopoulos said. "Personally, I don't know anything official yet. I just hear the rumours. I am an Olympiakos player and I am focused on Olympiakos right now. I will keep working and, if anything is going to happen in the future, I will be very proud if it's going to be for Manchester United. The fact that many European clubs have watched me in the last months doesn't make me nervous. It's a pleasure. Is it going to be hard to leave Greece at the age of 16? Not at all. If a player really wants to play football out of his country, and the situation at his new club is good, I don't see a reason not to try."




------------
The RoM Manchester United 2021-22 season preview is now available for just £6. It includes articles from the country's best football writers about our expectations for the season ahead and our brightest talents, as well as proposed transfer business and which youth players to keep an eye out for. All profit goes to Trafford Macmillan so please support this fantastic cause.