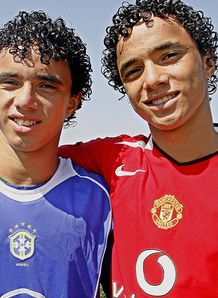 After over two years of talk about 'the Brazilian twins' but little evidence to back it up, I was starting to wonder whether the plausibility of them joining United was up there with the Kerlon 'the seal' signing. They have been linked to the club ever since they were fifteen, with whispers of trials and visits at Carrington arising every now and again.
Fabio and Rafael Silva, who are now seventeen and play for the Rio de Janeiro based club Fluminense, are finally scheduled in to join the club for a combined £5.2 million. It has proven our Asian tours aren't a complete waste of time as it was during one of these pre-season tours Ferguson spotted the identical twins playing in a tournament in Hong Kong. They both represented Brazil in the Under-17 World Cup finals in South Korea back in August, with Fabio, the captain, finishing as his team's highest scorer.
It has been reported today that the deal has finally gone through, with the necessary paperwork clearning, and the full backs are set to sign next Monday. However, they won't be able to play for us until the summer.
"After eights visits to Manchester United, we will travel to live in England," said Rafael who is a right-back, whilst his brother Fabio is a left-back. "In the last two years we went there about every three months, we stayed for 10 days and then returned to Fluminese. This time we will have the whole family, father, mother and my older brother's wife with him."
The twins are keen to join the long list of successful Brazilians in Europe, citing the examples of some of their friends, including Anderson, as their target. "We know there are Brazilians of our age doing well, Anderson, who is our friend, at Manchester United and we talk to [Liverpool's] Lucas who used to be at Gremio by MSN," he continued. "But the greatest example for us is Alexandre Pato. Who knows; perhaps we can follow the same path as The Duck?"
Do you think the twins will be a success at United?