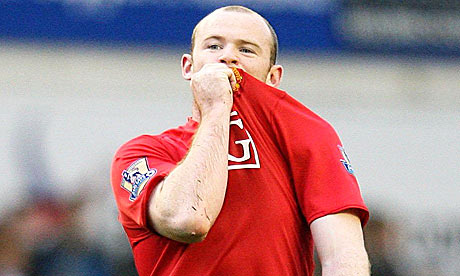 This was written by a City fan about Wayne Rooney: I sit there awaiting with baited breath for him to receive a beautiful through ball that he then latches onto, and promptly puts it in the back of the opposing net.
The insanity of an Ingerlurnd fan. One week they will come to Old Trafford and chant "you fat bastard!" at Wayne Rooney until their hearts are content. The following week he will score for England at Wembley and the same people berating him days before are jumping for joy and chanting "Roooonehhh! Rooooonehhh!"
I'm not claiming there aren't any United supporters who also follow England, of course there are, but there are plenty who choose to shun the national team for a whole host of reasons, and even some of our players have a similar attitude.
I'll watch England if any of our lads are playing and will certainly cheer if they score. There are some English players who I think are fairly harmless and don't have an opinion on, but there are far too many who I think are total cunts. How can you support a team when so many of the players irritate the fuck out of you? I had a hard enough time with Carlos Tevez and Cristiano Ronaldo at the end of last season, so I'm not entirely sure how England fans do it.
John Terry, Steven Gerrard, Frank Lampard, Gareth Barry and Ashley Cole are wankers. They've all tried to fuck over their clubs and they all think they're the big 'I am'. I could speak at length about why just the thought of them makes me cringe but that's not what this is about. The point is I strongly dislike them for how they behave, so how could I ever be happy to see them score? JT scores a header and the press are banging on about our very own 'British Bulldog'. Frank Lampard scores a penalty and we'll be reminded of the death of his mother and his 'bravery'. St. Stevie scores and people start comparing him to our very own Sir Bobby Charlton.
Whilst we love Wayne Rooney the vast majority of Premiership fans do not. Quite the opposite. So given that he is the main man for England and their hopes of World Cup glory are firmly rested on his shoulders, how on earth do England fans cope?
If Rooney fucks up next summer, the press and rival fans will be more than happy to tear him to shreds. They did it with Beckham before they fell in love with him all over again. I imagine I can't be the only one cringing when that mob start singing for Beckham to come off the bench given the way he was treated by this country's fans after the World Cup 98. 
If Rooney does well, as he has been doing, he will be a god… until he puts on his United shirt again.
The City fan continues: I want to see him and them [United] fail on an apocalyptic scale, where women and children are crying, and cats and dogs are mating. However, as I said, swap his shirt to that of the Three Lions, and my position changes somewhat. Do I need help? Quite possibly so.
UNITED > England