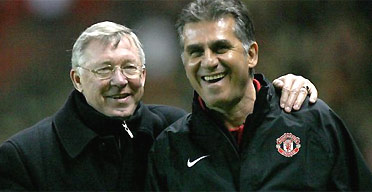 The FA are an organisation I've been quick to criticise of a number of occasions. Their inconsistency is infuriating, particularly considering it is usually United on the receiving end of their unjust punishments. From Rio Ferdinand's drugs ban to Gary Neville's fine, the FA just love making an example out of United.

So when United got dumped out of the FA Cup thanks to the incompetency of yet another referee, the FA were more than happy to drag Sir Alex Ferguson and Carlos Queiroz to face their punishment.

The contentious incident which caused all these problems was Sylvain Distin's shoulder charge on Ronaldo.

Within the first few minutes of the game, Diarra was allowed to shove Ronaldo in to touch, making no attempt for the ball. The referee, Martin Atkinson, didn't even have a word.

It was no surprise when moments later Distin tried the same thing, considering he'd seen his team mate get away with it earlier, but this time it was in the penalty area. From a goalscoring opportunity, Distin cut across Ronaldo's body, not even looking at the ball. The referee was a couple of yards away but waved play on.

The BBC: United were understandably furious after six minutes when Cristiano Ronaldo was clearly bundled over by Distin as he raced into the area, but referee Martin Atkinson ignored the appeals, to the clear disgust of Ferguson.

The Independent: A beautiful ball inside Hermann Hreidarsson by Wayne Rooney invited Cristiano Ronaldo to drift inside the Icelander but he was then charged off the ball by Sylvain Distin. It looked like a penalty but referee Martin Atkinson was unmoved.

The Guardian: He [Ferguson] did have a point about Martin Atkinson's refereeing, certainly over the penalty controversy in the seventh minute. Four minutes earlier Lassana Diarra had barged Cristiano Ronaldo over the touchline with his shoulder. Ferguson thought that should have produced a booking. Atkinson kept his cards in his pocket but did award a foul. Yet when Sylvain Distin did exactly the same thing to Ronaldo in the area, as the winger drove goalwards after accepting a superb pass from Rooney, no offence was deemed to have been committed. Yet if one was a fair shoulder charge, so was the other. The only possible explanation was that Atkinson did not fancy awarding a penalty so early in the game.

Fergie and Queiroz exploded post-match, but the FA fucked up royally along the way to getting them punished and our fellas have been let off the hook.

"Managers get sacked because of things like that and he's going to referee a game next week," said Fergie. "He [Hackett] is not doing his job properly and he needs to be assessed. I'm assessed as a manager, players are assessed, referees should be assessed properly by the right people. That performance should not be accepted by our game. Don't even ask me why Ronaldo didn't get a penalty, I cannot explain that decision and I don't think anybody could."

"It was a clear penalty [against Distin] but before that there were two attacking fouls on Ronaldo," Queiroz added. "What does Diarra expect when he elbows a player and puts him over the touchline: that he becomes a saint? That's why the Taylors of this game can survive and some of the best players are out of the game. It cannot happen any more. The referees were a disgrace – they did not do their job. When referees come here and support players that in the first 15 minutes do nothing but foul, stopping attacking movements, it needs attention bringing to it. It is a pity but the game has moved to a situation where the referees also deserve red cards. This referee today, he deserved that somebody come inside the pitch after five minutes, give him a red card and put him out of the game. That is my opinion about his job today."

The old argument is that these sort of decisions even out by the end of the season. When a referee fucks up and a decision goes against you, don't worry, because a different referee will fuck up next weekend and your team will benefit from it.

However, how could this decision be evened out? As the last man fouling in the penalty area, Distin should have been sent off. With less than 10 minutes played, you'd imagine this would certainly put victory in to United's hands, particularly if a goal came from the resultant penalty.

With time running out, it was now United who had fouled in the area, with Tomasz Kuszczak bringing down Milan YSB Baros. Kus had been brought on at half time for the injured Van der Sar, so his red card meant Rio Ferdinand was forced in goal. He guessed the right direction for Muntari's penalty, but no keeper would have stopped it.

United continued to dominate after the sending off but there wasn't enough time to get us back in the game now. We were left to rue wasted opportunities and possession as we were now out of the FA Cup.

Can someone explain to me where Ronaldo's decision got evened out? With no more games left to play in the FA Cup, no future refereeing fuck up could save us now. It was an unacceptable performance from the referee and the cost United paid was unmeasurable.

After already knocking out Aston Villa, Tottenham Hotspur and Arsenal, it's not out of the question to imagine that following a victory against Portsmouth we could have beaten West Brom in the semi finals and then Cardiff in the final. But the Treble dream was ended. Why? Because of incompetent refereeing.

So, it is no surprise the FA have followed suit, showing it's not only their referees who fail to do their job properly.

The FA screwed up at the very basic levels of the trial. They transcribed Sir Alex Ferguson and Carlos Queiroz as saying things they actually didn't. Their argument was totally undermined by their failure to get the most simple things right.

Queiroz had been transcribed as saying of Atkinson "that is my opinion of this robber today", but when the video footage was played back, it was revealed he actually said "that is my opinion of his job today."

"There were a lot of reported quotes but some of them were actually incorrect," said United's lawyer, Graham Bean. "The FA are inconsistent in who they charge and why."

Reports today suggest that the FA are considering an appeal, however Bean had a damning response to this. "If they appeal it is juts sour grapes," he said. "This wasn't a case of United claiming the referee was biased. Sir Alex and Carlos had been raising issues all season about the need to protect players like Ronaldo. The FA claimed they questioned the integrity of the ref and Keith Hackett but that was not the case. Sir Alex and Carlos did not say the ref wasn't being honest but he was inconsistent."

Hooray, our lads are in the clear… but this is yet another example which should lead us to worry about the state of our game. The FA are a joke, with this hearing showing their incompetency goes from the grass roots of refereeing all the way to the top with those working behind the scenes. The sooner somebody actually takes note of the things Sir Alex Ferguson said about Keith Hackett, the better.




------------
The RoM Manchester United 2022-23 season preview is now available for just £6. It includes exclusive interviews with Patrice Evra and Kleberson, articles from the country's best football writers about our expectations for the season ahead and our brightest talents, as well as proposed transfer business and which youth players to keep an eye out for. All profit goes to Trafford Macmillan so please support this fantastic cause.