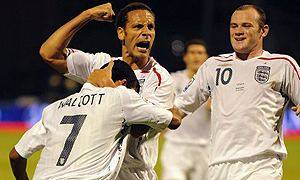 Theo Walcott might have scored a hat-trick for England, but their victory over Croatia was all about Wayne Rooney. After Rio Ferdinand brought the ball forward, it was Rooney's pass that lead to the Croatian mistake from which Walcott scored his first.

The second goal saw Rooney at his best, passing the ball around the box before threading through an inch-perfect ball to Walcott for the second.

The third goal was Rooney's, after Jermaine Jenas cross to Heskey was blocked by the toe of a defender. Wayne finished simply, side-footing it in to the net.

The fourth goal saw Rooney with his second assist of the night, playing through yet another perfect ball for Walcott to put away.

I wonder what Stan Collymore is thinking…

Other moments of interest? Well there was the Croatian goal which came from a John Terry mistake. Beaten for the ball, he checked to see whether the player was off and away, which he was, before then throwing himself to the ground. The player probably caught him but his delayed reaction upon realising his mistake was good for a laugh.

Then there was James' calamity moment, where he again came rushing out of his goal, collided with the player, rolled around for a bit before realising the ref hadn't blown, then jumped back on to his feet. Fortunately for him, Croatia were off target.

David Beckham came on for Walcott and looked genuinely chuffed for the young Gooner. However, Walcott's performance tonight certainly suggests Beckham will be starting all games from the bench these days. Such an impressive display leaves me wondering why on earth Wenger hasn't played him for a whole match in the league yet this season.

Elsewhere, Nani, who doesn't want to be compared to Ronaldo, scored for Portugal, as they went in 1-0 up at half time.




------------
The RoM Manchester United 2022-23 season preview is now available for just £6. It includes exclusive interviews with Patrice Evra and Kleberson, articles from the country's best football writers about our expectations for the season ahead and our brightest talents, as well as proposed transfer business and which youth players to keep an eye out for. All profit goes to Trafford Macmillan so please support this fantastic cause.