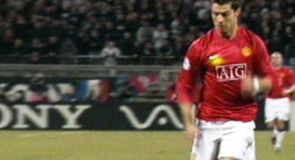 In the warm up before United's Champions League match against Lyon last night, a laser was seen directed from the crowd in the direction of Cristiano Ronaldo.
In one of the earliest attacks of the game, as Ronaldo raced towards the box, only to see his shot deflected side for a corner, the laser was spotted again. After the game, Sir Alex Ferguson confirmed that the incident had been reported to UEFA, saying, "we reported the matter to Uefa before the game. We noticed it in the warm-up and they (Uefa) are aware of it."
Now it is looking as though Lyon will be up for a charge and fine from UEFA for the incident.
Uefa director of communications Rob Faulkner has today spoken out about the incident, claiming a full investigation is under way.
"It is always the same procedure. We will get the delegate's report in, see if there is a mention in there and in what way, and if we can corroborate that," he said. "Then, based on that, if there is a case we will open an investigation and potentially after that there could be some disciplinary hearing with sanctions afterwards. If there is any action, [Lyon might be issued] something a long the lines of a fine or so on. What we know so far is that there was definitely a laser pen aimed at him (Ronaldo) during the warm-up, and this is what the venue team in Lyon were made aware of. They tried to take some action before the game. It is an unusual one to be honest, a little bit peculiar. I believe there has been perhaps one incident like this in the past. I don't think there was any physical danger towards the player (Ronaldo). It is very hard to legislate against something like that – one of these smaller little laser pens. But we will look into it and if there is action to be taken then the disciplinary bodies will do their job."
What punishment, if any, do you think Lyon should face?