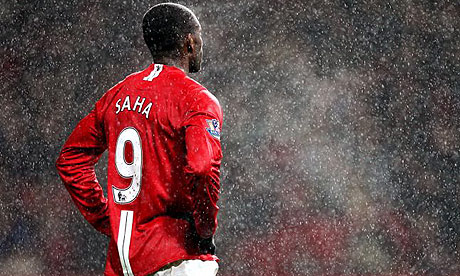 United fans might have been entitled to feel a tad disgruntled upon seeing how often Louis Saha had been playing for his new club Everton. Whilst I wished him well and never resented him in a way a lot of reds began to, I wasn't too impressed to see that after spending his entire United career in and out of the treatment room that he was playing every game for Everton.

He first made his comeback from an injury to play in the second half of Everton's 2-2 all draw with Hull. Then just three days later he played a full 90 minutes in the League Cup. Another three days after that he came on as a sub with half an hour to play, then another five days passed and he was starting for them in the UEFA Cup. He didn't miss a single game in October or November. What the fuck was going on? What had they done with the real Saha?

Whilst I wouldn't take joy in a former red being injured, there is a slight feeling of consolation in learning that after being ruled out with injury at the end of November, Saha is set for more time out.

"Louis has been re-scanned and he will be out for another four to five weeks," said Moyes today.

We paid over £12 million for that lad almost five years ago now, yet will have seen very little of that transfer fee recouped when he was sold to Everton. Whilst the transfer fee was undisclosed, it is well known the blue half of Merseyside don't have a pot to piss in and will have got Saha at a steal.

To see him playing game after game, no injury problems, meant we'd allowed Everton to get one of the bargains of the summer. Saha is a great player when you can keep him fit. However, we can be reasured now by his 2 month lay off that he wasn't just allergic to playing for Manchester United, rather his legs really are made out of glass!




------------
The RoM Manchester United 2022-23 season preview is now available for just £6. It includes exclusive interviews with Patrice Evra and Kleberson, articles from the country's best football writers about our expectations for the season ahead and our brightest talents, as well as proposed transfer business and which youth players to keep an eye out for. All profit goes to Trafford Macmillan so please support this fantastic cause.