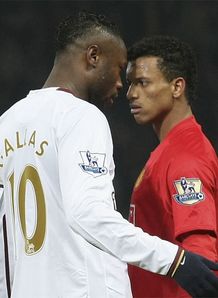 This time last year, new signing Nani signed a couple of brilliant goals in the pre-season. These goals were followed by his audacious celebration, flipping in the air. Already you knew this was a player who was going to get on our opponents nerves.

Our first win last season came four games in against Tottenham Hotspur, following a screamer from Nani with 20 minutes left to play. Whilst plenty of comparison had been made between him and Ronaldo, it was clear there were plenty of differences. Ronaldo couldn't strike a ball like that, and certainly couldn't have managed it in his first season with the club.

Nani ran rings around Arsenal in the FA Cup match at Old Trafford and wasn't prepared to take any shit from their bullyboy/cry baby captain, squaring up to him after the referee failed to punish the kick Billy Gallas gave our winger.

However, we've seen a negative side of Nani too, which was shown in his reaction against West Ham when he nutted Lucas Neil. To be fair to our player, Neil had just pinched Nani's bollocks, and if a bloke did that to me, nutting them would feel like a natural reaction. However, on the football field, of course Nani has to behave more appropriately.

Following a brilliant pre-season, where for me, Carlos Tevez just pips him as our best player, Sir Alex Ferguson has given his opinion on Nani.

"Nani has gone through the same process as all the young players and you are looking for that jump up in performance level from the first season," said Ferguson. "His maturity should be better as well, which is important. He is a very young 20. That immaturity showed itself against West Ham at the end of the season. That has cost us because he is missing for the first two games. But when he develops that he will be an outstanding talent. He has courage and speed, can play with both feet and does not melt in big atmospheres."

Another difference between Nani and Ronaldo is the latter has a far better grasp of his temper. Whilst praise is lavished on Ronaldo for plenty of areas in his game, I don't think his ability to ignore the constant wind ups is given enough recognition. He is kicked every match he plays in, yet he very rarely retaliates.

If Nani is going to fulfil his brilliant potential, he is going to have to take a leaf out of Ronaldo's book, for he too will be kicked and frustrated in every match he plays. When an opponent can't beat him with skill, he will attempt to beat him with force, and that will mean more situations like that against West Ham.

Fortunately, Nani is at the right club and I have every faith in Ferguson being able to have the positive influence the player needs. Whilst his fiery nature may not be quelled completely, which isn't necessarily a bad thing, we should see a more mature Nani emerging over the coming years. He is a player I'm very excited about and look forward to seeing him getting more game time this season.




------------
The RoM Manchester United 2022-23 season preview is now available for just £6. It includes exclusive interviews with Patrice Evra and Kleberson, articles from the country's best football writers about our expectations for the season ahead and our brightest talents, as well as proposed transfer business and which youth players to keep an eye out for. All profit goes to Trafford Macmillan so please support this fantastic cause.