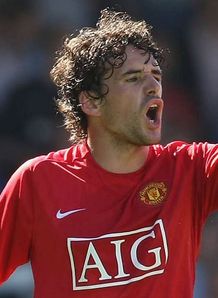 Owen Hargreaves has been a player often mocked in England and used as a scapegoat for the failings of the national team on numerous occasions. It only made sense then that he sign for United.
It is a shame that his debut finished with a derby day defeat at the council house, and if we'd had ten Owen Hargreaves on the field, it would have been a different result. He worked tirelessly throughout the ninety minutes, claiming every fifty-fifty as his own, and bossing the midfield. Not since Keane have we seen a player so confident on the ball and able to drive the team forward from his own half. It was a massive relief to see, and I hadn't realised up until that point how much we'd craved such a player. No discredit to Michael Carrick who I believe played his part and contributed his fair share to our title winning season, but the composure, decisiveness, and confidence of Hargreaves' debut managed to outshine Carrick entirely. This is the man we've been looking for. Amidst the Fletchers, O'Sheas, Djemba-Djembas, Klebersons, Alan Smiths, all ending in failed attempts to find a player who fit in to the Keane mould, we'd finally got the fella up to the job.
We haven't seen as much from Hargreaves as we would have liked since then, and the injury re-occurrence has sparked fears that we've signed a crocked player. I think our current situation with Saha, and more frighteningly so, Rooney, has made us all a bit too sensitive to injuries. However, it is important to note that in the past six seasons with Bayern Munich, Hargreaves has averaged thirty two games a season, and this is taking in to consideration his last season when he suffered a broken leg (with a respectable thirty five game a season average when not including 06-07).
Regardless, the fella looks top class, and at only twenty six, he has his peak to come yet. He can tackle, he can pass, he can run with the ball, and he's also got a rather handy shot on him. What I find most impressive though, however, is his presence, and his ability to switch it on for the reds, getting them all up for it when that's needed. It is for these reasons, and probably many more, that he has today been voted the most impressive new signing on the official United site, with a massive 38% of the vote. Tevez was voted second with 32%, whilst Anderson and Nani both collected 15%.
Essentially, Ferguson has made four great new signings, and the fact that Anderson, who was our Man of the Match away to Arsenal, impressing us no end in several other matches, scraped in at third place, says a lot about the quality of our new players. Ferguson has already said that this current squad is his best ever, and it would be hard to argue with that. The extra strength we have now, meaning players like Carrick, Nani, Saha and Anderson are fighting for three spots on the bench when we have a fully fit first XI, is rather terrifying. Wes Brown, John O'Shea, Gerard Pique and Danny Simpson are all competing for the one defensive place. The signings add the quality we've craved when comparing our bench with that of Chelsea's in recent seasons.
I have to agree that Hargreaves is the best of the lot, but with the four new signings averaging at twenty two years old, you'd have to imagine the best is certainly yet to come!
Who do you think has been the best buy?