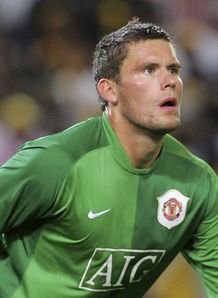 Horror could be seen on the fans' faces at Old Trafford yesterday when the referee wrongly showed Tomasz Kuszczak a red card. Our team had battered Portsmouth all game and in attempt to get the winning goal, threw all our players forward on the attack. Portsmouth were given the opportunity to break, initially with 2 versus 1 before Wayne Rooney sprinted back, and as Milan YSB Baros burst in the box, Kuszczak brought him down, Baros' knee smacking straight in to the keepers face. Despite United having two players behind the ball, the referee sent our keeper off. The problem, bigger than the fact we'd conceded a penalty with ten minutes to go and were down to ten men, was that Kuszczak was our substitute keeper, meaning an outfield player was to go in goal for the penalty.

Rio Ferdinand pulled on the keeper's jersey, and despite going the right way, no keeper would have been able to get to Muntari's accurately placed penalty kick. Ferdinand had nothing to do for the remaining time in goal, Portsmouth looking as though they were the team playing with ten men after continued domination from United, but we couldn't get the crucial goal needed to stay in the FA Cup.

Chelsea's exit from the Cup, after a humiliating and surprising defeat at the hands of Barnsley, has gone some way to soften the hurt of losing though. After knocking out Arsenal, it seemed as though we'd gifted Chelsea another FA Cup with the blues easily being the best team left in the competition. However, thoughts of the Cup aside, our focus must return to the Premiership.

Arsenal drew their third league game on the trot yesterday afternoon at Wigan, meaning United now have a game in hand on the team at the top, who are now just two points ahead. They've squandered their five point lead from a couple of weeks ago and United stand to go top of the league on Saturday if they beat Derby. Arsenal take on Boro later that day.

A win at Derby seems a pretty achievable task, considering they've won just one game this season. However, when you consider who United could be playing in goal at the weekend, a win isn't necessarily a foregone conclusion.

There has been no further news on the state of Van der Sar's groin injury, however he did miss four league games in December and January after his last spate of injury. Kuszczak is now set to face a three match ban following the weekend's red card. That brings us to Ben Foster, who after his cruciate ligament injury in the summer, has played just one game for the Reserves. Last Thursday he played a full 90 minutes in the 2-1 win over Boro, showing no ill-effects and putting on a solid performance. The only goal of the game came from a controversial penalty. However, whether Foster is ready to be thrown in to the first team is debatable.

That leaves German keeper Ron-Robert Zeiler and Tom Heaton as our other options from the Reserves, with the former having a rather impressive season so far. He put in a blinding performance against Liverpool Reserves earlier this season, pulling off many a spectacular save. But again, question marks will be raised over their ability to cut it in the Premiership just yet.

If Van der Sar is unavailable for the weekend, who do you think we should play in goal?




------------
The RoM Manchester United 2022-23 season preview is now available for just £6. It includes exclusive interviews with Patrice Evra and Kleberson, articles from the country's best football writers about our expectations for the season ahead and our brightest talents, as well as proposed transfer business and which youth players to keep an eye out for. All profit goes to Trafford Macmillan so please support this fantastic cause.