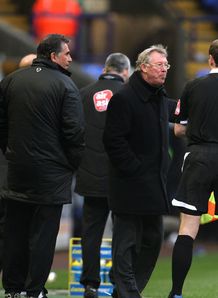 Sir Alex Ferguson watched the second half of our defeat against Bolton from the stands, after laying in to the useless Mark Clattenburg in the tunnel. Fergie deemed many of Bolton's challenges unacceptable, only for Clattenburg to ignore the foul, or prefer a stern word over a booking. As I said after the match, Bolton certainly were guilty of some pretty shocking challenges, and the delay they brought to the game suited their style of play perfectly. The ref failed to play any advantages to the offended side and was far too cautious with yellow cards, seemingly terrified of handing out bookings in front of a crowd celebrating their "cup final" lead.
Patrice Evra was the target of most of the foul play, with Kevin Davies on a mission to foul the French full back. Davies, who has committed the second highest amount of fouls in the league this season, was lucky not to receive his marching orders after continuing to intentionally foul Evra, despite a yellow card. Evra was able to shed light on the Davies feud after the match, saying, "it was the same last year when Davies kicked me as well. I said to him (in last year's game), 'Why do you do a tackle like that?' And he said, 'Because I don't like you'. I didn't understand it. Today he did it again. His first tackle on me should have been a red card. I don't know why he does it. I just play my game. I don't know what the problem is with Davies because I don't know him."
Ferguson let rip at half time, letting Clattenburg know exactly what he thought of his spineless decisions to let Bolton players continue their thuggish game. He has today paid the price for that however, with Clattenburg's version of events being examined by Soho Squad disciplinary chiefs earlier today. Ferguson has been charged with using abusive and insulting words towards an official and has until December 11th to respond to the FA's charge.
Ferguson has explained his position further, saying "any team at the bottom of the league, you expect them to battle and scrap because they haven't got the quality of opponents like ourselves – that's why we are in different positions. But the key to it really is how the referee controls it. He's the arbiter in terms of applying the laws of football. That's where we feel a bit aggrieved." Fergie could face a touchline ban, which is exactly what we don't want with a trip to Liverpool in a few weeks.
Has justice been done?