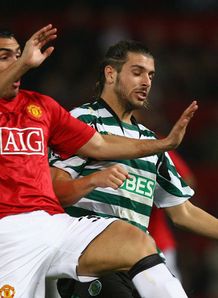 Miguel Veloso has been linked with United over recent weeks as he has emerged as Sporting's latest young talent. After previously signing Nani and Ronaldo from the Portugese club, it comes as no surprise that the papers claim we are after signing him.

Veloso's agent, Paulo Barbosa, spoke out about the situation a fortnight ago, saying there has been "informal contact, nothing official." He went on to say, "I think any player would like to play for Manchester United, Miguel would – it would be an honour if it is possible."

Fergie's number two, Carlos Queiroz downplayed the rumours of an imminent move a few days later, saying, "the scouting department is everywhere and it would be ridiculous to say that good players are not referenced. Miguel Veloso, Joao Moutinho, Quaresma, Bruno Alves, Bosingwa – all have been watched by us. Do we want to get these players? Of course, everyone does, however we can not work with 200 players! We have six players in Veloso's position, we signed Hargreaves this season and, at this point, he is not part of our options to buy as a priority."

The following day, Veloso confirmed it would be a "dream" to play for Manchester United, but conceded there would be no chance of this happening until at least the end of the season. Today, however, the Sporting president, Soares Franco, has issued a statement claiming he is unhappy with Queiroz's comments, which stated Veloso was far from a top priority, saying Queiroz's behaviour is unacceptable. "I can't help regretting Carlos Queiroz's declarations about Manchester United's interest in Veloso," he said. "He'll only be sold when someone pays his £20million buy-out clause. Carlos Queiroz is an employee of Manchester United and made an unacceptable insinuation."

Now this statement seems rather dramatic, considering Queiroz played down the rumours of us signing the Sporting midfielder. He has spoken out today, hitting back at the harsh comments made about him. "Mr Franco can't read or doesn't understand what I said," he said. "He speaks because he knows I can't make direct contact to him in reply. His frustration from not seeing Sporting in the next stage of the Champions League has caused him to say what he has said."

Clearly Veloso is in United's radar, I imagine several top teams are interested in signing the player, but I still am bemused as to why Franco has taken such an objection to Queiroz's comments. Franco is best off having a word with the agent, who is pimping his player to any top club whose interested, before having a pop at Queiroz. However, considering Sporting have shown great skill in producing top young talent, pissing off their president is probably not the way forward if we want to land more of their rising stars!




------------
The RoM Manchester United 2022-23 season preview is now available for just £6. It includes exclusive interviews with Patrice Evra and Kleberson, articles from the country's best football writers about our expectations for the season ahead and our brightest talents, as well as proposed transfer business and which youth players to keep an eye out for. All profit goes to Trafford Macmillan so please support this fantastic cause.