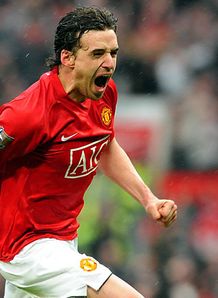 Owen Hargreaves has completed a good first season for United, with us finally appearing to have a player with the potential to fill Roy Keane's boots. His debut against City at the Wastelands filled me with huge confidence as he fought for every ball and played with so much presence. Unfortunately though, he has spent large chunks of the season out injured, and upon returning, has the fiercest competition in the league for a place, fighting it out with Scholes, Carrick and Anderson.
Hargreaves versatility has seen him feature in more games than he otherwise would, slotting in at right back when we've seen injuries to the defence, and played on the right wing for the European Cup final.
In a season where we've seen the emergence of several great chants, most notably the Viva Ronaldo and Anderson chants, Hargreaves contribution to the season has been honoured with a song, which became somewhat of an anthem in Moscow, where Hargreaves found the back of the net in the penalty shoot out.
Tune: Can't Take My Eyes Of You
"Ohhhhhh Owen Hargreaves,
You are the love of my life
Oh Owen Hargreaves
I'd let you shag my wife
Oh Owen Hargreaves
I want curly hair too"
So at MancuniaMerchandise.com we have brought out a couple of designs.