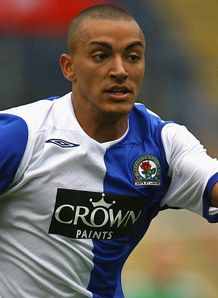 Danny Simpson has been loaned out to Blackburn Rovers this year, following a few first team appearances for United last season. His most impressive display came in our victory over Wigan, with Simpson assisting a Wayne Rooney goal.
Competitions for places is rife at United at the moment, with Gary Neville, Wes Brown, and Rafael Da Silva all vying for the right back spot, meaning Simpson will have to put in a good year at Blackburn if he wants to stand in contention for a place at United. Whilst rumours of an 'indiscretion' are said to be the reason why Simpson left the club, Ferguson insists he just wants his young player to pick up some experience that he wouldn't have been able to gain at United this season.
Danny Simpson has today spoken out about his time at Blackburn, claiming that he can see a lot of Ferguson's methods in Ince's actions as a manager.
"He has taken certain things from Sir Alex," Simpson said. "You can see the comparisons. But then after playing under him for so many years, he is going to take something from him. You look at the other managers who have played under him, and I believe they have all taken something from him too."
Simpson, who has started three games for Blackburn already this season, has said he is grateful to Ince for the help he has given him since moving clubs.
"Paul has certainly helped me a lot since he has been here, and he is proving to be a really good manager," he added. "For the first few weeks he told me just to settle in, and then he gave me my chance, and I am grateful for that. From what I've seen we have a good group of players here, there is a really good bond. It's thanks to that, the manager and all the staff I've settled in well."