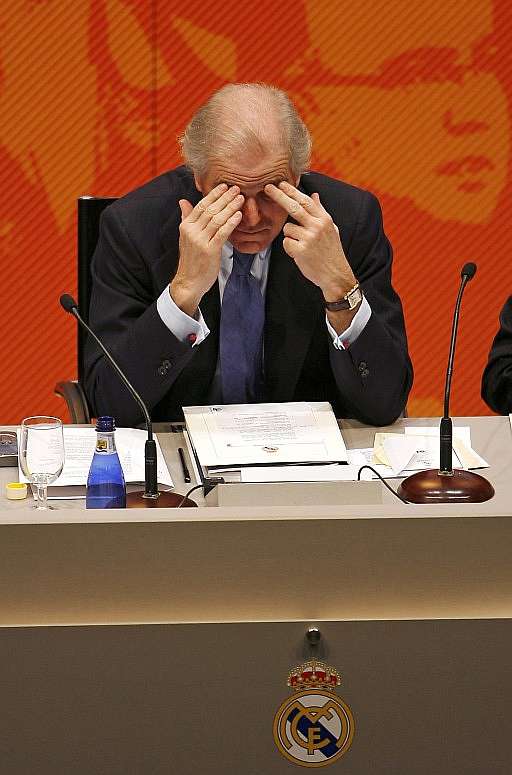 "We know that it's something between the player and Manchester United," Ramon Calderon said yesterday, trying to fan the flames yet again. "If the player continues to insist that he wants to come and if United will consider letting him go, then we'll ask. If the price is right and everyone's happy, then it won't turn sour. I prefer not to talk much about him because he is a United player. We are in this situation as passive spectators."
FIFA have turned down our complaint over tapping up and technically, considering that as far as we know, Real Madrid haven't spoken to Ronaldo directly, the footballing body were right to do so.
However, Real's constant talk of supposed problems between the player and our club, their constant insisting that they are friends with United, and now claims that they are just spectators in this farce, is entirely infuriating.
Passive spectators? My arse!
May 14th
"Real Madrid have the solvency and the financial liquidity to be able to take on a signing of the magnitude of Cristiano Ronaldo," Angel Arroyo, the Real Madrid director said. "It would be economically beneficial due to the merchandising that would arise from it. If it is not possible for the club to sign him, it would not be because of money but for other reasons."
May 25th
"Real Madrid have conducted themselves exquisitely in this whole affair with Cristiano Ronaldo," said Ramon Calderon. "We have always said that he is a player who has a contract and that Manchester United is not a selling club. That's everything."
May 27th
"He's a player who enjoys his football with the group," said Schuster. "The English way has been a perfect education for a player with such exceptional individual talent. There he has learned to enjoy his football as a complete professional. This means we would get a Cristiano who would arrive here with his lessons learned. Cristiano would help us in a lot of ways, without a doubt, but we can't stop with just him. He'll be expensive and we'll have to pay a lot of money, but we need more players because he won't be enough. There are other players we have been looking at, but everything has slowed down a little due to all this Cristiano Ronaldo business, seeing as he is the big priority for the club."
May 28th
"We haven't done, nor will we do anything against the wishes of a club that we consider a friend like Manchester United," said Calderon. "Our relationship with Manchester is magnificent and we will not do anything that would violate the will of a team, just as we would not like that done to us. We know Manchester doesn't want to sell and we have nothing to say. It's a problem between the player and his team."
May 31st
"He is an objective, but we cannot do anything if his club do not want to part with him," said Real Madrid sporting director, Diario de Noticias. "At this time we do not have anything with the player."
"At this moment Cristiano Ronaldo is one of the best in the world, a fantastic player and it is clear that we are interested," said Calderon.
June 2nd
"We would like to have a player like Cristiano, but if he does not sign for us then it would not be a major problem," said Calderon .
June 3rd
"What I have always said is that this club wants its money to be on the pitch, not in the bank," said Calderon. "Nothing is expensive or cheap on its own. The counter-balance is what you receive for the price you pay. We do not know if he [Ronaldo] is going to come, but he is not going to remove the number from Raul."
June 4th
"(Ronaldo) is an impossible signing because his club don't want to sell him," said Calderon. "We can't do anything if the club that owns him don't want to sell. We would never (approach a player under contract) as this is not the policy of Real Madrid, and especially not with a club who we are such good friends with."
June 5th
"He'd be an important signing for Madrid because this is a club which signs the best players in the world, and that's what Cristiano is," said Van Nistelrooy. "Cristiano could bring a lot of things to this club. He's young, he has everything and a long sporting career ahead of him. For Madrid he would be a great signing."
June 6th
"For Madrid it is an honour to know that a player like him thinks that playing at Real Madrid would be good," said Calderon. "We are proud to know that he would like to be with us."
June 10th
"This Cristiano matter does not worry me nor am I obsessed by it," Schuster said. "While he doesn't play for Madrid all we can do is hope, although it's clear that he would be a great signing and would adapt well to our squad."
June 11th
"The price is not important," Calderon said. "It's not a question of money but a question of efficiency. In the end, if a player wants to leave – whatever the offer is – he will walk. The question is to give him guarantees of success."
June 15th
"He's a kid who is already spoke highly about all the time in Madrid," said Gabriel Heinze. "If I had to pay for one player I would choose Cristiano. In Madrid we would welcome him with open arms. I don't think he would have any problem adapting to any team in the world. Players of his quality fit in anywhere. I don't think Cristiano will get any better as a footballer, he is already next to God in his ability. But while Sir Alex is at United, it's going to be difficult for him to go. He is a fundamental part of their plans."
June 19th
"We are waiting for Ronaldo to say something, and as soon as he says he wants to play for Real Madrid there will be conversations between the two clubs," Real's director general of the presidency Miguel Angel Arroyo said. "We would willingly reach an agreement with Manchester United if it is possible, that is to say, if they want to sell and if the price was affordable."
June 21st
"If the two resolve this situation and Manchester United want to call us then we will be happy and delighted with them because Cristiano is a great player," said Calderon. "We can't say anything more, we only talk about our own footballers and Cristiano is Manchester United's. If the kid keeps himself in that strong position, the step he has taken could be key."
June 22nd
"For such a player we will pay what is necessary because what counts for us is to win the UEFA Champions League," said Schuster.
"We will not make a move until the team (Manchester United) says they want to sell the player," said Calderon. "Right now they are saying the contrary and there's little we can do. Once Ronaldo announces his future and once his club accept to sell him then we would have talks. Right now, he is a player of Manchester United and we will not interfere or create any problems. Ronaldo is under contract with another team and we cannot think about him but focus on the players we have."
June 23rd
"It seems to me too soon when we have not started talking to United," said Calderson. "And the only thing that we know is that the club won't sell the player. There are things that we can't even think about when United aren't ready to sell, but in whatever operation we do we are careful not to put in risk our good administration, and that is what we will do."