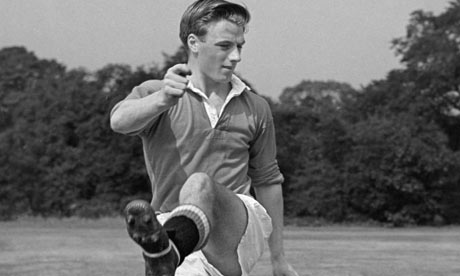 He hurtles down the muddy left touchline, shoulders square on, head down, shorts hitched up, plain white socks a blur, heavy brown lace-up football at his feet as he bursts past floundering defenders to the by-line before launching a cross into the path of an on-rushing team-mate. It could be to Bobby Charlton for a net-ripping thunderbolt, or for gaunt-faced Dennis Viollet to ghost onto and despatch into the far corner with a shimmy of the hips, or perhaps golden-haired Albert Quixall will silence the critics – again – with a volley of unstoppable power. That's how I like to remember Albert Scanlon, one of the last of the Busby Babes, much loved survivor of the Munich Air Crash and a favourite Manchester United star of my childhood, who died on 23 December, 2009, aged 74.
I was only 11 when the aircraft bringing home the United team from a 5-4 aggregate victory over Red Star Belgrade in the European Cup crashed on take-off at Munich on 6 February 1958, ultimately killing 21 people including 8 players and three members of the coaching staff. It was a shattering event but it was also the starting point of my enduring commitment to United, drawn into the dream that the club could rise from the ashes and stand again for the highest standards of creative attacking football. Day after day I followed what had happened to the survivors, initially focussing on the mighty Duncan Edwards, who tragically died some three weeks later,but then on all the others, including Albert. To me the players became almost like family and have remained so in my affections these fifty-odd years later, even though I never knew them personally.
I'm not claiming that my story is important in relation to me, as an individual, but my experience, and the loyalty I came to feel towards United after Munich is undoubtedly part of a much wider phenomenon, the process by which the club became first a national and then an international sporting institution, revered by some, no doubt hated, envied and reviled by countless others. I don't come from Manchester, I'm not from Salford or from Hulme, where Albert came from, and I'm not working class (although the idea that middle class interest in football started with the Premiership is plain wrong, as photos of my schoolmaster grandfather as an amateur footballer in the 1890s might indicate, not to mention his memories of going to St James's Park in the 1900s) but I was one of the many far from Old Trafford who came to love United. What needs saying over and over again, Albert Scanlon was part of that process, for me and for many others. He helped create United as a 'heritage' club, even if he didn't inherit much benefit himself.
What saddens me in particular about Albert's passing is that, having been a vital part of United's extraordinary recovery from tragedy, he missed out on more substantial playing success with the club and perhaps for that reason his very real contributions in the early post-Munich seasons somehow came to be largely forgotten. But not by me.
To read this in full purchase Red Matters by Giles Oakley.