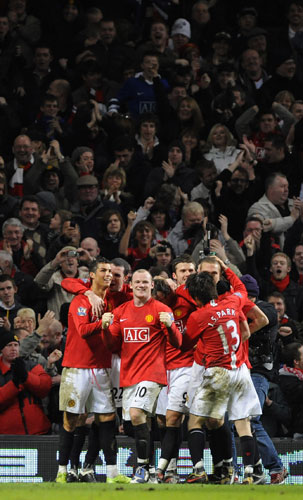 After necking a quick pint down the road I made my way to the ground. "Viva John Terry" was being sung on repeat by the masses outside Lou Macari's chippy and whilst we were all smiles and laughter, we knew we'd had a tough task on our hands.
I've been almost as repetitive as the manager when it comes to talking about our difficult fixtures. Whilst it's alright to bemoan the dropped points we've had on the road, the team have to answer that by picking up the points against the big teams at home. We can't complain about tough away fixtures dampening our title challenges if we don't know win at home. Before Sunday, Hull were the highest ranked team to come to Old Trafford and they played us in to a 4-3 victory.
We haven't clicked all season, we just lost to Derby in one of the shittest performances in years, so surely the Chelsea game was the time when we'd come to life, right? That's why United do! But there was the niggling thought of doubt and dread, which was only emphasised the moment I got on to the concourse and saw the starting line-up.
Fletcher and Giggs in for Scholes and Carrick? Is Fergie fucking bonkers or what? We're playing a midfield that contains the likes of Michael Ballack and Frank Lampard and we're doing it without our best midfielders? Fuck that.
I was livid. Bring back Carlos fucking Queiroz, for the love of God!
A flag lauding last season's success was revealed in the Stretford End before kick off and the songs about Moscow started. The Chelsea fans packed the away end but were quiet.
The trumpets sound and the game was announced. Chelsea against the Champions of England, the Champions of Europe and the Champions of the World. We're taking the piss here, as I hoped we would, but did not want to see it blow up in our face.
"Viva John Terry" started up as we were waiting for Chelsea to kick off. With this chant doing the rounds in the ground before today, this was the moment we had been waiting for. Total and utter humiliation for the man this country holds up as their idol, Mr British Bulldog, and we will make him feel two foot tall.
Within the first minute, The Best Keeper in the World sliced a clearance, resulting in a United throw-in. A couple of minutes later, Lampard went in on Ronaldo and was booked for it. This was the kind of start the fans wanted. We were bouncing. Song after song.
Our lads put on the pressure, passing the ball well and trying to get a grip of the game. Then with fifteen minutes played, Fletcher made a silly challenge on Deco just outside the box and you had to worry which of those wankers, Lampard, Deco or Ballack, was going to make us pay for it. It was a rubbish freekick though and continued to search for the opening goal.
Giggsy, the oldest outfield player on the park, was superb. On too many occasions this season he has appeared lacklustre and sloppy with his passing, but against Chelsea, he got it right almost all of the time. Even with those old legs of his he was able to beat a Chelsea player or two, dipping his shoulder like the good old days and running past his opponent.
Coming up to half time and Ronaldo is throwing a strop. Here we go again, I think. He is enraged and receives a yellow card. It's only upon watching MOTD2 that I saw he was right to throw a hissy. Carvalho bundled him over the box, not even looking at the ball, and we should have been awarded a penalty.
Never mind, press on. Berbatov should have scored, or at least made the keeper work, after Rooney played him in, but he couldn't get hold of his shot and Cech collected it easily. You had to feel our time was coming though.
Chelsea broke in to our half though before Drogba fucked up and Ballack threw himself to the floor to win a penalty. Christ, even Ronnie would have been ashamed of that one. Howard Webb, who was typically rubbish (where does all this talk about him being the best ref in the country come from anyway?), managed to make the right decision here though and waved play on, although had it been down the other end and Ronaldo the offending player, Webb certainly would have sent our winger off. Afterall, this is the fella who showed Ronnie a red card for refusing to bury a clear header in the roof of City's net.
Then came what could have been a massive talking point. Having seen John Terry put in a block on Park, who until that point had been cheered every time he came close to touching the ball, we awaited the corner. This surely would be our last chance before the half time whistle.
Rooney went over as if to take the corner but then walked away as Giggsy ran over. Good. It's bloody stupid that our only player who has the ability to rifle in a shot on the volley from the edge of the area is wasted taking corners. But then Giggs just starts running with the ball and crosses it in. What the fuck? I've seen the linesman flag up before Ronaldo fires it in to the net though, so don't have the disheartening realisation that we haven't just scored.
The corner is taken again and we score again. No linesman flag. Goal! Nemanja Vidic, right before half time, you beauty! Had he not scored though and United hadn't won, we'd still be talking about that first goal. Should Rooney have told the linesman his cunning plan, to role the ball out of the corner for Giggs to run with? Why? Should our defenders also alert the linesman when a player is offside? When a foul has been made? How about he just does his job and watches what is going on inches away from him.
Whilst the performances of the two teams weren't leagues apart at this time, we still were worthy of the 1-0 lead. Now we had to keep it up for the second 45 minutes, something United have failed to do against Chelsea on so many occasions in recent years.
The useless Deco was subbed off at half time and replaced by Anelka. He didn't receive the warm welcome Terry did though, surprisingly, as it was actually Anelka's miss that meant we were European Champions. But I suppose Anelka has played for Liverpool and City, so it doesn't matter how many European Cups he helps us win, we can't even mockingly pretend to like him or show gratitude towards him!
As the second half got underway, instead of the usual composed and patient Chelsea we have played against before, we were up against a team that was panicking. Their passes were wild, their few attempts a goal were from distance, they were hesitant with their decision making. They were totally unimaginative. When they got the ball, they didn't know what to do with it, so usually allowed one of our players to intercept their pass, or helped us guide it back to the hands of Van der Sar.
We still needed that second goal though. We'd seen Chelsea entirely outplayed during the first half in Moscow, only for lucky deflections and slip from our keeper to see our lead taken from us.
Patrice Evra, who really showed us what we had been missing over the past month, crossed the ball in brilliant for Rooney, who just had to stick a leg out to guide the ball past Cech. He ran over to our corner, blowing kisses, before smooching the United crest on the corner flag. 2-0, surely there's no way back in for them now.
Our fans got giddier, more and more excited at the prospect of winning. Whilst Chelsea are no historic rivals of United, they certainly inflicted a lot of pain on us not so long ago, and it felt good returning the favour. They beat us 3-0 at their place on the day they last won the title, totally outplaying us. They beat us 3-1 at our place after already being crowned Champions the season before. Now was our time to rub their faces in our success last season and the result we were set to achieve today. "Viva John Terry" got louder and louder. The cheers when he was in possession lasted longer. "Are you City in disguise?" we asked when another simple ball was played off the pitch. "So fucking easy! Oh this is so fucking easy!" We didn't even have to try to keep possession.
Park put in another great performance in a big bag, showing all too clearly how far he has come on. He used to be so light weight but against Chelsea he was bombing down the wing, taking players on with confidence. As always, he was quick to win back possession for the team and had a really positive impact on our play.
Jose Mourinho and Diego Maradona (rumour has it that it was the latter who set off the smoke alarm off in Chelsea's hotel, the Radisson on Peter Street, smoking a cigar in his room in the morning) must have wondered who the hell this Chelsea team were. The players were still the same but their confidence and ability belonged to a team in the bottom half of the table on Sunday.
Drogba took a swung for the ball and totally missed, before later slicing his shot so dreadfully United ended up being awarded a throw-in a quarter of the way up the pitch. Shocking, but still contributing more than Anelka, who did fuck all the entire time he was on the pitch.
Evra was replaced by O'Shea before Giggs made way for Michael Carrick, both exits leading to standing ovations from our crowd. Bloody brilliant performance from Giggs.
Terry is booked for a poor challenge on Park, leading to rapturous cheers again. Ronaldo's freekick makes Cech work, before Ronaldo puts the ball in Chelsea's net. It is ruled out and again the linesman flag had been up in plenty of time. But again, the linesman has made the wrong decision. Ronaldo was one on one with Cech following Chelsea's failed offside trap but we were denied the rewards for outsmarting our opposition again.
By the time Berbatov scored, we could have been five or six nil up. Moments after Ronaldo's goal had been disallowed, he had a blinding shot from outside the box which had Cech beaten but whistled past the post.
Belletti fouled Ronaldo as our Portuguese winger skipped past him. Not content with kicking him once, Belletti chased after him, making no intention to play the ball, and swiping out at Ronaldo. He was booked for doing so and United scored our third from the resultant freekick.
3-0, lovely result. Of course, 5-0 would have been more pleasing and a better reflection of what happened in the game, but to beat your supposed title rivals 3-0 is more than good enough. It was a humiliation we dished out. A humiliation of their fans, of their players and of their manager.
The atmosphere was brilliant and being there was just fun. Maybe that sounds like an odd choice of word for describing being in the crowd, but we had a laugh on Sunday. We got to see our lads play brilliant football, knowing that every fucker in this country was groaning. "Are you watching Merseyside?" Damn right they were watching and with Benitez crumbling before their eyes they will have been almost as gutted as the dejected Chelsea lot.
But this is almost all for nothing if we don't do the business against Wigan this week, who are enjoying fairly decent form themselves. One point behind Chelsea and five points behind Liverpool with two games in hand means things are looking good.
They might never win three in a row but it's looking more and more likely that we will, again.