Following on from the reviews of January, February and March, we're getting to the good stuff with April!
April 2008
1st: Roma away
This match exemplified more than ever how far we had come in the past year. Playing away against Roma the season before, we were generally outclassed. After going a goal behind, Rooney scored a brilliant goal, against the run of play, before losing 2-1. That was a good result for us then.
We played a completely different game this season, something Carlos Queiroz was credited with. It was the most controlled United performance I'd ever seen at the time. We allowed Roma to come at us, yet were so solid at the back they didn't get the opportunity to penetrate. Even with Vidic being subbed off with half an hour player through injury, United maintained the solid shape with O'Shea in his place.
We left Italy on the back of a 2-0 win, Ronaldo and Rooney on the scoresheet. Superb performances which alerted the attention of every other club in the competition. We were the team to beat!
2nd: FA charges
Fergie and Queiroz were both charged by the FA following their comments last month in regards to our defeat against Portsmouth.
6th: Middlesbrough away
Alves, the Brazilian who had gone the first two months of his Boro career without a goal, scored not once, but twice, against us at the Riverside. After the highs of Rome, this match was a harsh and quick return to reality. After Ronaldo opened the scoring with ten minutes gone, Alves scored two, one either side of half time, meaning we were trailing 2-1. Rooney saved the day, equalising, but we couldn't secure all of the points.
Chelsea were now just three points behind us.
8th: Charlton Praise For Scholes
"He's so professional and so good, Paul Scholes, that when he gets the ball, I get a real satisfication," said Charlton. "I say, 'This'll not be wasted' and sure enough, the number of times he picks the ball up, the direction of his passing, the quality of his passing, the way that he can find time on the ball – it's an instinctive thing and it's such a pleasure to watch. I love watching Paul Scholes, he's an absolute credit."
9th: Roma home
This wasn't a game without scares, with Wes Brown giving away a penalty to get one of their required two away goals. Fortunately, Daniele de Rossi blasted the ball high over the crossbar.
Hargreaves crossed for Tevez with 20 minutes played, who's header earned us our 1-0 result over this Italian side, a modest score in comparison to scoreline during our last campaign at Old Trafford.
As we made our way down the steps out of the ground, "BARCELONA!" blared from the PA system. This is it! Champions League semi-finals here we come!
11th: Duo awarded
The Premiership player and manager of the month go to Sir Alex Ferguson and Cristiano Ronaldo
13th: Arsenal home
After their capitulation in February, drawing game after game, Arsenal had now lost their grip on the table. This game was deemed their make or break for their title chances.
Arsenal took the lead. It was only after the game that the fans in the ground got to see how Adebayor had got the better of our defence and Van der Sar. He'd scored with his hand! Dirty, cheating bastard!
Thankfully, it didn't matter. United won a handball for a stupid William Gallas handball (and after his unpunished petulant kicking of Nani in the FA Cup game, I couldn't have wished for a better person to fuck up and be punished in this game) in the area. Ronaldo was forced to retake the penalty, keeping his cool, and scoring again.
Then Owen Hargreaves curled a free-kick with perfection, leaving Lehmann glued to the spot. We went six points clear, temporarily at least, Arsenal title hopes were officially over, and we were one step closer to retaining the Premiership trophy.
16th: Rio agrees 5-year-deal
"It will be a proud day for me, definitely, when I do sign a new contract," said Rio. "I'm enjoying my time at United, I love being here and that's not changed. Being part of a successful team is great and to be part of the tradition that goes along with that is an honour in itself. To have the opportunity to stay here for another four or five years would be fantastic."
19th: Blackburn away
There was a great mood at the Fernhurst ahead of this game. In this fixture the season before we'd been pissed-wet through from the chucking down rain and Louis Saha secured us a 1-0 win. Confidence was high.
Our confidence was shattered when Roque Santa Cruz scored on 20 minutes, the ball bouncing awkwardly before Santa Cruz pounced. Time ticked on and our confidence dwindled further.
Then, again, Carlos Tevez popped up to header in our equaliser! Result! Whilst 1-1 wasn't what we'd come to Ewood Park for, it was certainly a welcomed result in the end. We were still three points ahead before travelling to Chelsea.
"Home to shag your sister! You're going home to shag your sister!" we sang, as the dejected Blackburn fans poured out of the stadium, not bothering to wait for the final whistle.
20th: Gudjohnsen wary of Scholes threat
"I'm more an admirer of Paul Scholes than I am of Ronaldo," said Barca's Eidur Gudjohnsen. "Ronaldo is a fantastic player, but he has 10 other great players around him every week. Scholes is one of the most complete footballers I've ever seen. His one-touch play is phenomenal. Whenever I have played against him, I never felt I could get close to him."
22nd: History in our hands
"It is almost 10 years since we won the final," said Ferguson. "The team of today do not need to worry about the past and be reminded of the past. They have seen the game many times on video and television, so I do not think it is lost on any of them. What is more important is that they can shape their own history. I think they are good enough to do that."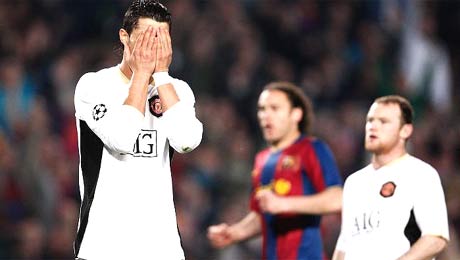 23rd: Barcelona away
We couldn't have hoped for a better start at the Nou Camp than a penalty a couple of minutes in. Ronaldo stepped up, ready to help us on our way to the European Cup final. It didn't quite work out like that though, with Ronaldo missing the goal entirely. Were we going to live to regret that?
Another perfectly controlled performance, like that in Rome, again showing we had just about worked out this European styled football, something we'd be striving for for years. Taking a 0-0 back to Old Trafford, we were favourites, but if any team could score at our place, it was probably one that included the likes of Messi, Eto'o and Henry. We could have done with that away goal.
26th: Chelsea away
After what was largely an equal contest, Chelsea finished the day with three points and only second in the league on goal difference. With just two games left to play, surely we weren't going to fuck it up now?
Still carrying an injury from Blackburn, Rooney equalised for United after Ballack scored on the stroke of half time. Our forward was subbed with an hour played, making the same journey as Vidic had done in the first half when he'd been forced off through injury.
Then, with four minutes left to play, an Essien cross hit Carrick on the arm. Penalty. Ballack put it away.
Apparently, there was some fuss between Evra and the Chelsea groundstaff after this match…
27th: PFA Player of the Year
Cristiano Ronaldo is crowned the PFA Player of the Year…again.
29th: Barcelona home
It was almost too good to be true when the net bulged following Paul Scholes' strike. It was perfectly hit, a goal fit to win any game.
We absorbed the pressure, as we had done in the Nou Camp, but a team boasting the attacking flair of Barcelona failed to really test our keeper. We kept them out of our box perfectly and defended harder than I've probably ever seen us do at home.
The atmosphere was absolutely incredible. We willed them to the final, song after song.

At the final whistle, joy rang around the ground. The fans going wild, singing about Moscow, whilst our lads celebrated on the pitch. We were finally there at the final again. 50 years on from Munich, we were in the European Cup final!