Continuing with the monthly reviews of 2008 as 2009 approaches…
August 2008
2nd: Solskajer's testimonial
United beat Espanyol 1-0 thanks to a Frazier Campbell goal. Solskjaer showed he'd still got it though, with some fancy footwork and a great effort late on.
It was a great day out and nice closure on the career of a player who means so much to us.
"I have had the best players in the world around me," Solskjaer said. "That makes it easy for forwards. You don't have to work hard creating chances for yourself, they do it for you. The fact I had that and played for the best manager in the world, in front of the best supporters makes me feel very humble."
6th: Ronaldo confirms he's staying
"I will remain with Manchester United for at least another year," said Ronaldo. "Sir Alex Ferguson heard my arguments, I heard his and, in fact, it was settled that the best for both parties would be for me to stay. Therefore, I can confirm that, next season, I will play for Manchester United. Before rumours emerge saying that I will play against my will, I want to make this clear – whoever says or writes that is lying. I will play for Manchester with all my heart and soul. I will fight and honour that shirt with the same commitment and dedication as always."
10th: Community Shield
After a dull 0-0 match with Portsmouth, in which we should have been awarded a penalty for a rugby tackle on Man of the Match Carlos Tevez, United went on to win on penalties.
Tevez, Giggs and Carrick, who were all penalty takers in Moscow, scored with ease, whilst Jermaine Defoe was the only Portsmouth player to score, with Van der Sar saving one, whilst they missed the target entirely with their other two. Tevez was very excited.
11th: Spurs want to keep Berbatov
"I can't say whether Dimitar is happy or not," Ramos said. "I just know that I would be very happy to keep him here. I would be absolutely delighted if Berbatov was still at the club after the end of the transfer window, I really hope that is the case. He is a magnificent player and we want to enjoy another season of him at this club."
17th: Newcastle home
When United won the title for the first time again in 2007, we opened the season with a blistering 5-1 victory over Fulham. When last we started with a 0-0 with Reading, it seemed as though all had gone to pot. The 1-1 on the opening day of this season continued you the anti-climax trend. Champions of England and Europe, but we can't beat sodding Newcastle on the first day of the season at home!
Martins took the lead for the visitors on 22 minutes, before Darren Fletcher equalised a couple of minutes later. Nothing much of note to report after that, other than the nailed on penalty we should have had with a couple of minutes played.
18th: Berbatov's dream
"I'm now in Tottenham but no one can disagree with me wanting to follow my dream," said Berbatov. "I'm not angry about the decision of Juande Ramos to name me as a substitute. I'm not crying. I only show my emotions to my close friends and family. But if I was laughing when I was on the bench, people would say I was an idiot. I noticed that Eric Cantona never smiled but I don't know if anyone ever asked him why he didn't look happier."
19th: Rio loses out on England captaincy
John Terry is named England captain, Rio vice-captain.
20th: Silvestre signs for Arsenal
Mikael Silvestre gets a two-year contract with Arsenal. He was in a City medical when he got the call from Arsenal.
25th: Portsmouth away
We were right to feel a little apprehensive ahead of this game. With injuries hitting us hard, our bench was made up of the untested Da Silva brothers, Rodrigo Possebon, Frazier Campbell, Darron Gibson, as well as Gary Neville, who'd yet to play first team football since his injury in March 2007. We were scraping the barrel for options on a ground that hadn't been kind to us in the past.
Darren Fletcher came up trumps again though, scoring our winning goal with half an hour played.
28th: Dong leaves
At long last, Dong Fangzhuo is no longer a United player!
Another award for Ronaldo
Ronaldo is named Uefa's European Club Player of the Year.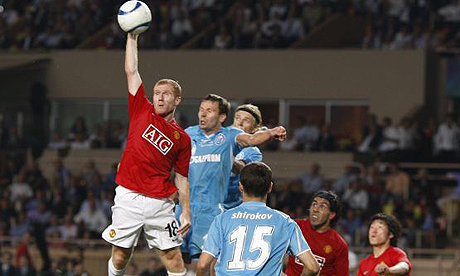 29th: European Super Cup final
The less said about this the better. We didn't show up. You would think that if we were going to bother making the journey to Monaco we'd bother to take it seriously, but we had a dreadful game. Scholes' sending off for his juvenile handball seemed to sum up our attitude to the game. We weren't arsed.
Vidic restored some pride in the result, halving their lead, but we were never going to get anything out of it.
30th: Ronaldo's operation recovery going well
"I am feeling fine," said Ronaldo. "I am feeling really good and my recovery is going well. I am more than happy with my progress and I hope to be back playing for United by the end of September – that is my target and it is a realistic one. It has been frustrating to miss the start of the Premier League season, but I am pleased with my rehabilitation and, hopefully, I'll be ready soon."