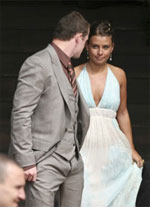 Wayne Rooney's wedding to Collen McLoughlin reportedly set the couple back £5 million, with OK! Magazine stumping up half the bill for exclusive photographs.
Rooney took several weeks off, in a period of time where he was seen to be smoking, got a tattoo, and put on a tonne of weight.
The smoking has stopped, the tattoo has healed, but his bank account is still in the red. But Rooney has a plan.
Rooney has been offered £150,000 to star in a series of commercials for Hovis, who have been losing a battle with Warburtons over recent years.
The 1973 advert, showing a grubbing little northern lad travelling the cobbled streets on a bike, laden with loaves of bread, was unique at the time, with all television showing perfect people with perfect RP accents.
The advert has been remade a couple of times since then and is set for another revamp, which will be shown in the break of Coronation Street in September. It will be set in Liverpool but Rooney's role in the advert has not yet been revealed. There has been some talk of the theme revolving around the important moments in British history over the past 100 years, although this has not been confirmed.
"They want to revert back to more classic commercials for the traditionalists," said a source. "With Wayne being a national icon, they can return to the iconic Hovis style while still appealing to the younger generation."
Here's the 1994 remake:
What do you make of Rooney being in this advert?