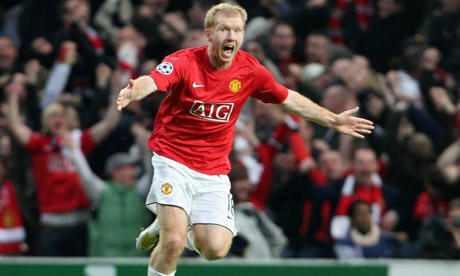 As the Champions of Europe, United are obligated to take part in the FIFA Club World Cup, which we have won before in 1999, meaning we'll have even more games in hand on the teams above us in the table.

United have played their last Premiership match until Boxing Day, with the lads set for Japan for their first game on December 18th. We will take on Gamba Osaka, the winners of this years Asian Football Club Champions League, before facing Pachuca (Mexican club which were crowned the greatest side in North and Central America) or LDU Quito (club from Ecuador who beat Brazilian Fluminense to win the Copa Libertadores this year).

Paul Scholes is just one of many who aren't overly won over by this tournament, but is there anything positive about it?

If we make the final, we'll earn ourselves close to £2.7 million, and if we win, the prize is £3.4 million, which is better than a smack in the gob.

"It's a big club competition and we want to win," said Scholes. "But obviously, we'd probably rather be here, playing our league game and not have so many fixtures in January like we've got. It's one of those things. We managed to win the European Cup last year and sometimes afterwards you have to do things maybe you don't want to do."

What do you think of this tournament?

Don't forget, there is just one day more of free shipping at MancuniaMerchandise.com – if you're stuck finding Christmas presents for any reds you know!




------------
The RoM Manchester United 2022-23 season preview is now available for just £6. It includes exclusive interviews with Patrice Evra and Kleberson, articles from the country's best football writers about our expectations for the season ahead and our brightest talents, as well as proposed transfer business and which youth players to keep an eye out for. All profit goes to Trafford Macmillan so please support this fantastic cause.