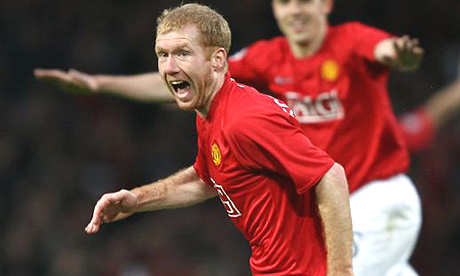 Following Sir Alex Ferguson's claim that Chelea's players were getting on a bit, Paul Scholes has championed the great young players we have in our squad.
Of our seven players involved in the penalty shoot out against Chelsea in the European Cup final, four were 23-years-old or younger.
Whilst it was Scholes' goal against Barcelona that earned us our place in the final, it was the youngsters, by and large, who stole the show in Moscow.
Scholes has claimed that this is an exciting time for United and whilst it might be difficult, there's every chance of our youngster retaining the Champions League title.
"It is an exciting time and a good time to be involved," said Scholes. "The young players coming through are only going to be better next year for the experience they've had. Everyone who came in to the team last year played a massive part in our achievements. It is a big ask (retaining the Champions League) but I feel we can only go from strength to strength. It is one thing having the talent and doing it in training every day but you have got to do it where it matters. Thankfully we have the players who can do that – young lads who do not seemed to be fazed by anything. They are very confident and look forward to the big games. Hopefully we can get off to a good start and a good finish by winning more trophies."
With cup competitions, the 'best team' doesn't always win, so there are no guarantees. However, when you consider the likes of Nani, Anderson and Tevez were all in their first season at United, yet still won the Champions League, it bodes well for what they can achieve next season, with the team gelled better as well as vital experience and confidence gained.