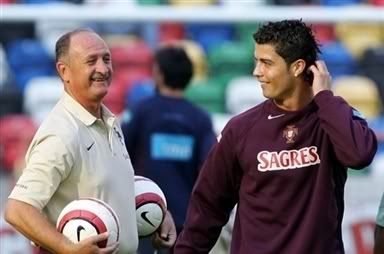 Sir Alex Ferguson started the mind games with Chelsea today, claiming that the rivalry with the rent boys was nothing compared to the history with Arsenal. Scolari has had a go with a response, claiming that Ronaldo might be playing with the Stamford Bridge club next season.
"He is one of the three best players in the world. When I was with Portugal, I had to choose three players every year for the World Player of the Year award," said Scolari. "One year I chose Didier Drogba, another year I wrote John Terry and another year I voted for Frank Lampard. Now these three players are with me, it's good for me – maybe Cristiano Ronaldo is with me next season. If he wants to change, I'll open the door to that."
Scolari then reflected on the development of Ronaldo since he first met him as a teenager.
"When I arrived in Portugal, Ronaldo was a kid, a young boy of just 17," he added. "At that time he had a good character, but he was already thinking about his future. He has improved a lot since, more so in Manchester than with the national team. He spends 11 months of the year with United and only one with the national team, but I have watched him improve. Next season I can see him as captain of Portugal because people like him and he has the confidence. He's a good man, he has grown up and is more mature. I like him, he's an intelligent boy and we have a father-son relationship."
Scolari, two words: you wish.